India taking the lead in addressing global concerns, says Union Minister Dr Jitendra Singh
Share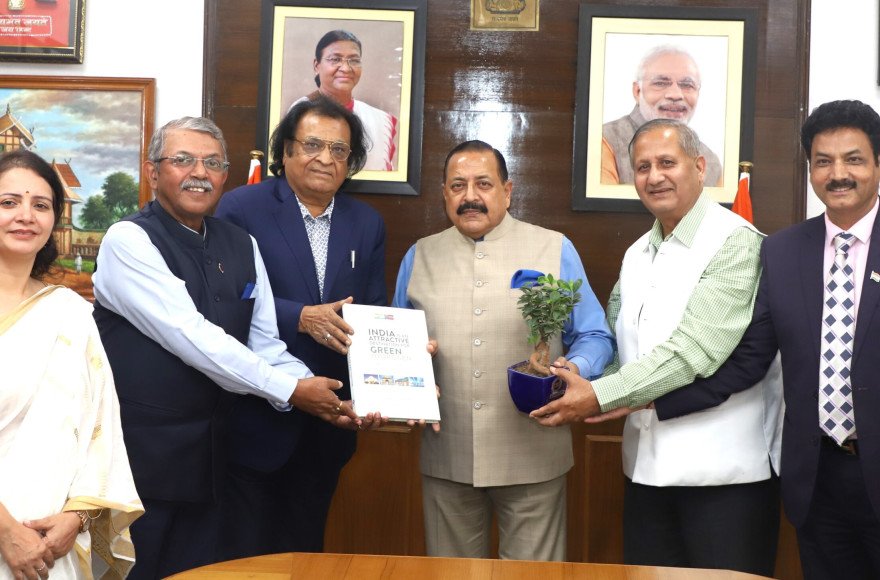 "PM Modi leading the global climate movement and the world is ready to be led by India in its fight against climate change": Dr Jitendra Singh
Dr Jitendra Singh calls upon Industry to commercially exploit India's first indigenously developed hydrogen fuel cell bus
India is taking the lead in addressing global concerns, the Union Minister of State (Independent Charge) Science & Technology; MoS PMO, Personnel, Public Grievances, Pensions, Atomic Energy and Space, Dr Jitendra Singh said today.
"Prime Minister Shri Narendra Modi is leading the global climate movement and the World is ready to be led by India in its fight against climate change- a concern that like the COVID pandemic knows no borders, respects no wealth or any other artificial human division," said Dr Jitendra Singh, while interacting with a delegation of the PHD Chamber of Commerce and Industry (PHDCCI) who called on him here today.
The PHD Chamber is an Industry Partner for ENTICE – Energy Transitions Innovation Challenge, an innovation platform for accelerating people-positive energy transitions. The Chamber has also set up the Centre of Excellence in Green Hydrogen (CoE-GH), a state-of-the-art knowledge facility to bridge the gap between government, academia, and industry. The Centre aims to facilitate partnerships for capacity building. The Centre intends to assist the SME sector that focuses on the green energy transition and is interested in starting a new business in the green hydrogen sector as well. This Centre is the only facility of this sort in India.
Dr Jitendra Singh called upon the PHDCCI to commercially exploit India's first indigenously developed hydrogen fuel cell bus, developed by the Council of Scientific and Industrial Research – National Chemical Laboratory (CSIR-NCL) and Central Electrochemical Research Institute (CSIR-CECRI) in collaboration with KPIT Limited, a Pune-based software multinational. The hydrogen fuel cell bus was launched by Dr Jitendra Singh in August last year.
Dr Jitendra Singh said, under the leadership of Prime Minister Narendra Modi, India is implementing the largest Renewable Energy (RE) expansion programme in the world envisaging a 5-fold increase in the overall RE capacity in the country.
"India is committed to achieve 500 GW of installed electricity capacity from non-fossil fuel sources by the year 2030 and reduce the projected emissions by one billion tonnes from now to 2030," he said.
The Union Minister said that the last nine years have witnessed the Indian crusade against climate change. "We have already achieved our commitment of 40% energy production from renewable sources, way ahead of the 2030 Paris Agreement target," he said.
He added that apart from the thrust on renewable energy from solar and hydel, the Prime Minister announced major strides in Hydrogen energy from the ramparts of the Red Fort on 15th August 2021. India also launched the National Hydrogen Energy Mission to enable cost competitive green hydrogen production.
Dr Jitendra Singh said India's energy-mix strategies include a larger shift toward clean energy alternatives, increased manufacturing capacities, energy use efficiency and a policy push for hydrogen including production-linked incentives. In addition, the emerging technologies like 2G Ethanol Pilot, Comfort climate box for tropical regions, Hydrogen Valleys, Heating and cooling virtual repository, are all on the table, the Minister emphasized.
Dr Jitendra Singh said India has developed a roadmap and a strategy for a Bio-based economy which is inching towards 150 billion USD by the year 2025. He said, this will facilitate infrastructure for Bio-manufacturing of low-carbon bio-based products.
Dr Jitendra Singh said, Government of India through Public -Private partnerships is ensuring the funding for clean energy innovations as envisioned under Mission Innovation 2.0. He said that the Clean Energy Ministerial (CEM) setup has been able to provide a unique opportunity for India to showcase its contribution to clean energy development nationally & internationally and quoted some major CEM initiatives which includes CEM's Global Lighting Challenge (GLC) campaign, Street Lighting National Programme, Unnat Jyoti by Affordable LEDs for All (UJALA) programme, The One Sun-One World -One Grid Initiative which was first floated by the Prime Minister of India to harness tremendous potential of solar energy.
Dr Jitendra Singh asserted that India, through "Mission Innovation", is actively engaged in collaborative efforts to catalyze inspiring innovation goals. He said, National Mission initiatives such as Make in India, Digital India, Start-up India, Green India and Smart Cities have encouraged hubs of clean energy innovation all over the country. Alongside, India has also taken R&D initiative to develop low carbon alternatives to Single Use Plastics in an integrated manner, the Minister added.
Dr Jitendra Singh said PM Modi had at the 26th session of the Conference of the Parties (COP26) to the United Nations Framework Convention on Climate Change (UNFCCC) held in Glasgow, United Kingdom in November, 2021, expressed to intensify its climate action plan by presenting to the world five nectar elements (Panchamrit) of India's climate action plan. He said, apart from a five-pronged target for India and its commitment to Net-Zero emissions by 2070, PM Modi also asserted the need to follow a sustainable lifestyle and emphasized on the idea of making 'Lifestyle for Environment' (LiFE) a global mission through bolder steps by the global clean energy fraternity.
Dr Jitendra Singh said India is on course to achieve its targets toward climate action like- Reaching a non-fossil fuel energy capacity of 500 GW by 2030; Fulfilling 50 percent energy requirements via renewable energy by 2030; Reducing CO2 emissions by 1 billion tons by 2030; Reducing carbon intensity below 45 percent by 2030; To pave the way for achieving a net-zero emissions target by 2070.
Dr Jitendra Singh said, today when India is celebrating the 75th year of its Independence, the roadmap for the next 25 years for India @100, will be determined by scientific and technological innovations in all walks of life.
Dr Jitendra Singh said, at the initiative of PM Modi, the United Nations observed the International Yoga Day and this year is being celebrated as the International Year of Millets. With Ayushman Bharat – Pradhan Mantri Jan Aarogya Yojana, the government is taking healthcare protection to a new aspirational level. This is the world's largest government funded healthcare programme targeting more than 50 crore beneficiaries.
Besides, said Dr Jitendra Singh, India is today the world's 5th largest economy and the total length of the National Highways in the country increased by about 59% in the last nine years. As a result of this expansion, India now has the second largest road network, after the US. Under the Swachh Bharat Mission (Gramin) the Government achieved the impossible task of increasing the sanitation coverage in just five years from 39% in 2014 to 100% by 2019. Under the programme, 10.28 Crore toilets were built in the country and all the districts declared themselves Open Defecation Free (ODF) on 2nd October 2019 as a tribute to the 150th birth anniversary of Mahatma Gandhi. It is the world's largest behaviour change programme.
Dr Jitendra Singh said the 'Jal Jeevan Mission (JJM) – Har Ghar Jal' is the world's largest drinking water project. When the programme was launched in August 2019, we were at 17% and today JJM has achieved a new milestone of ensuring safe and clean drinking water through taps to more than 12.75 Crore (65.75%) rural households of the country.
Source : https://pib.gov.in/PressReleasePage.aspx?PRID=1946799
Related Posts