Shri Bhanu Pratap Singh Verma inaugurates National SC-ST Hub
Share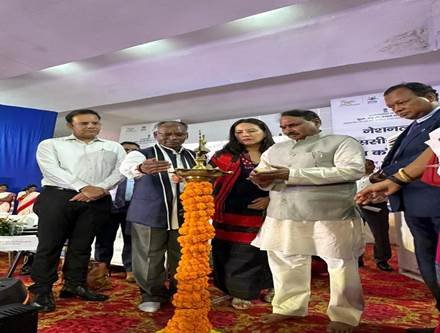 Shri Bhanu Pratap Singh Verma inaugurates National SC-ST Hub Mega Conclave for Creating Awareness Among SC-ST Entrepreneurs at Gumla, Jharkhand
The Ministry of Micro, Small & Medium Enterprises (MSME), Government of India organized National SC-ST Hub (NSSH) Conclave at Town Hall, Gumla, Jharkhand on 18th August 2023 to promote entrepreneurship culture and spread awareness of the NSSH Scheme and other Schemes of the Ministry. The Union Minister of State of MSME, Shri Bhanu Pratap Singh Verma graced the occasion with his presence along with Shri Jitendra Kumar Singh, Secretary, Department of Industries, Government of Jharkhand and other senior dignitaries. The event saw the participation of around 650 SC-ST aspiring and existing entrepreneurs.
Addressing the Conclave, Shri Bhanu Pratap Singh Verma emphasized the significant role of the MSME Sector in the Indian economy in terms of its contribution to GDP and overall exports from India. Speaking on the occasion, the Minister stated that MSMEs not only provide huge employment opportunities but also help in the industrialization of rural & backward areas. He also said that the MSME sector of Jharkhand is endowed with a wide variety of natural resources and is one of the most attractive destinations for setting up of mineral-based units. Shri Verma mentioned that the State offers ample opportunities for the development of forest & mineral based industries and our Ministry is taking several measures to provide the necessary support for these units to thrive. He also highlighted the potential of various schemes of the Government to empower the MSME Sector and said that through this conclave, the SC/ST entrepreneurs from the State will explore innovative ideas and mutual business opportunities and avail maximum benefits of these schemes.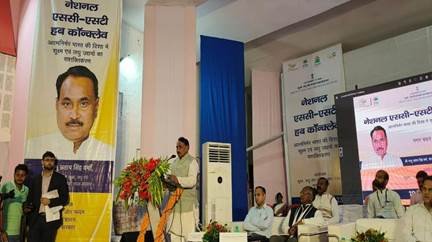 Speaking at the occasion Ms. Mercy Epao, Joint Secretary, Ministry of MSME briefed on the various initiatives implemented under the National SC-ST Hub scheme for SC/ST entrepreneurs along with other major schemes of the Ministry being implemented for MSME Sector.
A special technical session with CPSEs, Banks & Lending institutions was also held providing an interactive platform for aspiring and existing SC-ST entrepreneurs. The CPSEs like ONGC, BSNL, Damodar Valley Corporation Ltd. etc. gave presentations on their vendor empanelment process and shared the details of products/services that can be procured from SC-ST owned MSEs. The program also had financial institutions such as SBI, SIDBI, IFCI Venture Capital Funds, and NABARD, which detailed various lending schemes pertaining to the MSME sector. Other Government bodies like KVIC, MSME-DFO, TRIFED and GeM also participated in the program and deliberated on their schemes for MSMEs. The program included facilitation desks of UDYAM Registration for facilitating the registration of SC/ST MSEs participants on the spot.
For inclusive growth and to promote entrepreneurship culture among SC-ST communities and their active participation in the public procurement process to reach 4% mandate as per public procurement policy was also described.
Source : https://pib.gov.in/PressReleasePage.aspx?PRID=1950200
Related Posts