SMEs CONTRIBUTION IN PRIMARY EQUITY MARKETS INCREASES
Share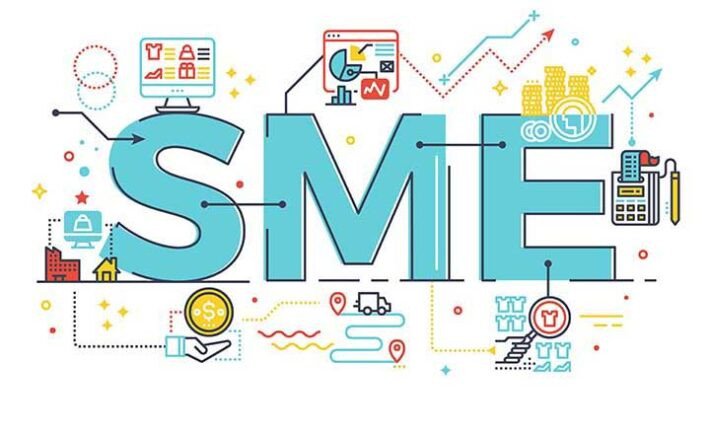 INDIAN STOCK MARKETS OUTPERFORM PEERS IN FY 2022-23
INDIA REMAINS AN ATTRACTIVE DESTINATION FOR FOREIGN PORTFOLIO INVESTMENTS
INDIA POISED TO EMERGE AS ONE OF THE FASTEST GROWING INSURANCE MARKETS
INDIA'S PENSION SECTOR DEMONSTRATES REMARKABLE PERFORMANCE IN COVID-19
Economic Survey 2022-2023 highlights buoyant performance of the Indian capital markets in the past year, driven by increased contribution of Small & Medium Enterprises (SMEs) and greater participation of domestic institutional and retail investors. The Survey was tabled by the Union Minister for Finance & Corporate Affairs Smt. Nirmala Sitharaman in Parliament here today.
The Survey further observes that digitization of insurance market and increase in FDI limits will support growth of India's insurance sector. India's pension sector is also witnessing Government initiatives to increase pension literacy, and a nudge to young adults to join pension schemes.
DEVELOPMENT IN CAPITAL MARKETS
The Survey observes that India's capital markets had a good year despite global macroeconomic uncertainty, unprecedented inflation, monetary policy tightening, volatile markets, etc. The number of SMEs coming with IPOs was almost double compared to the FY 2022 (till November 2021), and the total funds raised by them were almost three times the funds raised by them in the same period last year.
This year also saw the largest IPO ever in the history of India – in May 2022, the Central Government diluted its stake in the Life Insurance Corporation (LIC) of India and listed it on the stock exchanges, thereby making LIC's IPO the largest IPO ever in India and the sixth biggest IPO globally of 2022.
In April-November 2022, the underactivity in public debt issuances was more than compensated by private debt placements. The number of private debt placements increased by 11 per cent from 851 to 945, while resources mobilised increased by 6 per cent in April-November 2022, compared to the corresponding period in the year before.
Regarding performance of the stock market, the Survey states that the Indian stock markets witnessed a resilient performance, with the bluechip index Nifty 50 registering a return of 3.7 per cent during April-December 2022. This is despite the decline in global stock markets because of geopolitical uncertainties, supply chain disruptions post Russia-Ukraine crisis. Even among major emerging market economies, India outperformed its peers in April-December 2022.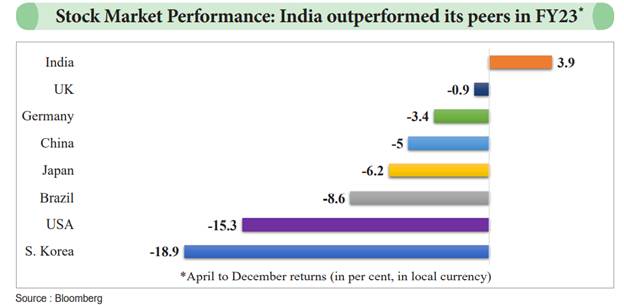 Towards the end of the year, the India Volatility Index (VIX) which measures expected short-term volatility in the stock market witnessed a declining trend as the impact of the conflict started to wane as the year progressed. The number of demat accounts increased sharply to 39% by the end of November 2022 on YoY basis, showing increased retail participation in the capital market.
FOREIGN PORTFOLIO INVESTMENTS
Economic Survey 2022-2023 highlights that on account of the strong macroeconomic fundamentals of the Indian economy and the improvement in market risk appetite from time to time, India remains an attractive investment destination. The assets under custody (custodial holdings of FPIs reflecting the total market value of the holdings) witnessed an increase despite the outflows driven by global factors. The total assets under custody with FPIs increased by 3.4 per cent at the end of November 2022 compared to November 2021. The overall net investments by Foreign Portfolio Investors during FY23 registered an outflow of ₹16,153 crore at the end of December 2022 from an outflow of ₹5,578 crore during FY22 at the end of December 2021.
Investments by Domestic Institutional Investors (DIIs) acted as a countervailing force against FPI outflows during recent years, rendering the Indian equity market relatively less susceptible to large scale corrections.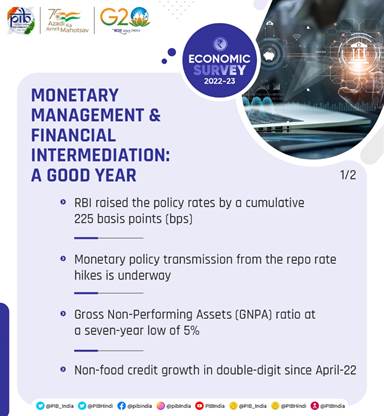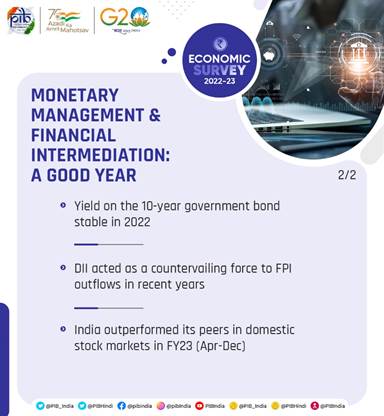 INSURANCE SECTOR
Economic Survey 2022-2023 observes that India is poised to emerge as one of the fastest-growing insurance markets in the coming decade. Life insurance penetration in India was 3.2 per cent in 2021, almost twice more than the emerging markets and slightly above the global average. The life insurance premium registered YoY growth of 10.2 per cent in FY22, with new businesses contributing 45.5 per cent of the total premiums received by the life insurers.
During FY22, the gross direct premium of non-Life insurers (within and outside India) registered YoY growth of 10.8 per cent, primarily driven by health and motor segments. The net incurred claims of non-Life insurers stood at ₹1.4 lakh crore in FY22, primarily driven by rising per capita income, product innovations and customization, development of strong distribution channels, and rising financial literacy.
In FY21, 10.7 lakh new micro-insurance policies were issued to individuals with a new business premium of ₹355.3 crore (in the life-insurance segment), and 53,046 new micro-insurance policies were issued in the general insurance segment (excluding standalone health insurers). Government's flagship schemes like Pradhan Mantri Fasal Bima Yojana (PMFBY), have led to significant growth in the premium income for crop insurance, while Ayushman Bharat (Pradhan Mantri Jan Arogya Yojana) (AB PM-JAY) has also driven insurance adoption and penetration in its segment.
PENSION SECTOR
Economic Survey 2022-2023 notes that the Government of India extended benefit of the Employees State Insurance Corporation (ESIC) pension scheme was extended to even those who have lost earning members due to Covid-19. Dependent family members of such persons were entitled to a pension equivalent to 90 per cent of the average daily wage drawn by the worker as per the existing norms. The insurance benefits under the Employees Deposit Linked Insurance (EDLI) scheme were also enhanced and liberalized.
Rule 64 of CCS (Pension) Rules, 1972, was relaxed to ensure immediate provisional sanction of pensionary benefits amid the unprecedented pandemic. To enhance the "Ease of Living" of Central Government Civil Pensioners, an Electronic Pension Payment order (e-PPO) was integrated with Digi Locker, creating a permanent PPO record in the Digi Locker.
The total number of subscribers under the National Pension Scheme (NPS) and Atal Pension Yojana (APY) registered a YoY growth of 25.1 per cent in November 2022, with AUM witnessing a growth of 22.7 per cent during the same period. The overall contribution recorded an increase of 27.6 per cent in November 2022, with maximum growth registered by the All-Citizen model followed by the Corporate Sector.
A survey by PFRDA on the socio-economic characteristics of NPS subscribers for the five-year period FY17 to FY21 showed that 24 per cent were female subscribers. APY shows a better gender balance, with number of female subscribers increasing from nearly 38 per cent in the initial years of the scheme to around 44 per cent by March 2021.
There is tremendous scope for growth in India's pension sector as per capita income is expected to rise further as the economy transitions to a high-middle-income country. India's demographic structure, with a more significant proportion of younger people, favors a phase of accumulation. In the recent five years, FY18 to FY22, the number of subscribers has multiplied over three-fold, led by APY, and AUM by over four-fold, led by NPS. The future expansion in NPS is expected to emanate from the private sector, both the salaried and self-employed.
OTHER DEVELOPMENTS
Economic Survey 2022-2023 also stressed upon the necessity of a common approach to regulating the crypto ecosystem, as crypto assets are elf-referential instruments and do not strictly pass the test of being a financial asset because it has no intrinsic cash flows attached to them. The Survey suggested a common approach to the regulation of these volatile instruments, giving a comparison of current state of regulatory approaches to cryptos across other economies.
The Survey also mentioned setting up and operationalizing India's maiden International Financial Services Centre (IFSC) in GIFT City as a new avenue and opportunity for capital market players, with the aim to facilitate India to emerge as a significant economic power by accelerating the development of a strong base of International Financial Services in the country. Over the last two years, GIFT-IFSC has witnessed tremendous growth and traction across the entire spectrum of financial services, including banking, capital markets, insurance, fund management, aircraft leasing, etc. With an internationally aligned regulatory regime, competitive tax structure and beneficial cost of operations, GIFT IFSC is now emerging as a preferred jurisdiction for international financial services.
Source : https://www.pib.gov.in/PressReleasePage.aspx?PRID=1894922
Related Posts