DPIIT announces One District One Product Awards
Share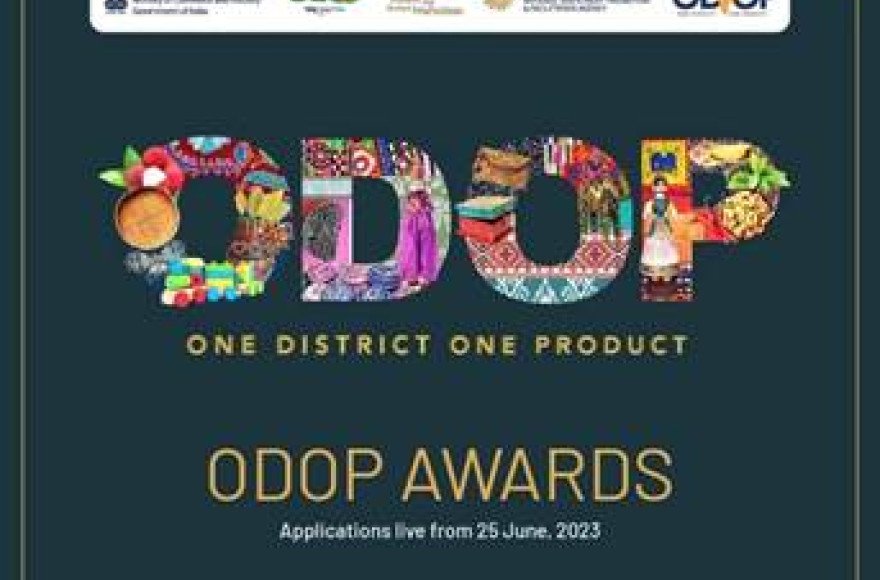 DPIIT announces One District One Product Awards; application process remains open till 31.07.2023
In its continued dedication to advancing the vision of the Prime Minister, Shri Narendra Modi for balanced regional development, Department for Promotion of Industry and Internal Trade (DPIIT) proudly launched the One District One Product (ODOP) Awards on June 15th on the Rashtriya Puraskar portal. These prestigious awards aim to recognize and honour those who have demonstrated exceptional accomplishments within their respective Districts, States/UTs, and International Missions abroad in achieving economic development through the ODOP approach.
The Awards focus on the following: (i) Encouraging constructive competition, innovation, and efficient public service delivery in successful ODOP interventions; (ii) Promoting replication and institutionalization of best practices through experience sharing and (iii) Recognizing innovations done for successful identification and solving bottlenecks in the supply chain of ODOP products.
The application process for these awards commenced on 25th June 2023 and the applications will remain open till 31st July 2023. All States/UTs, district administrations, and Indian Missions abroad are eligible to participate and are strongly encouraged to apply.
District administration, State Administration, and Missions Abroad are encouraged to actively apply for the awards so that an example could be set which could fuel innovation and effective public service delivery under ODOP.
In line with the Prime Minister's vision of AatmaNirbhar Bharat, numerous initiatives have been undertaken by various Ministries of the Government of India. One such initiative is the One District One Product (ODOP) program, spearheaded by the Department for Promotion of Industry and Internal Trade (DPIIT).
The ODOP initiative aims to foster socio-economic development of all districts of the country. The idea is to select, brand and promote One Product from each District of the country, to identify and solve problems associated with each of the chosen ODOP products at all points in their respective supply chains to increase their market accessibility and harness their export potential.
With an objective of enhancing the product, bettering the life of the producer and improving the process, the interventions undertaken by the ODOP team encompass the development of all aspects of the district.
Source : https://pib.gov.in/PressReleasePage.aspx?PRID=1938136
Related Posts