Gujarat Industry & SME Summit
Share
Gujarat Industry and SME Summit was the first event in Gujarat to encourage the development of the SME sector. Well-known and popular industrialists from Gujarat state were present, and various suggestions and recommendations were made for the establishment of small and medium-sized businesses. More than 300 industrialists were present and various issues were discussed.
The industrialists stated that building the infrastructure is essential for the development of industries. They also highlighted that the government is currently making constant efforts to support small and medium-sized businesses, but that small business owners are still not yet aware, for this awareness has to be raised. In light of this, the summit was held today with participation from representatives of several financial institutions, who also provided information on how to readily obtain financial support for start-ups and small businesses. SMEs can develop by evolving and adoption new technologies
The prime objective of this summit was to emphasise the significant role, small businesses play in the economy of the nation, in addition to major companies. The government's numerous programmes do not provide these industries with the right benefits, but the guests in attendance expressed optimism that this kind of strategy provided to small business owners will be a fantastic opportunity. In addition, trade financing is important for small business owners to obtain financial assistance, which is why financial institutions and bankers participated in this kind of event. In the future, financial support will also be given to business owners through various programmes similar to this one.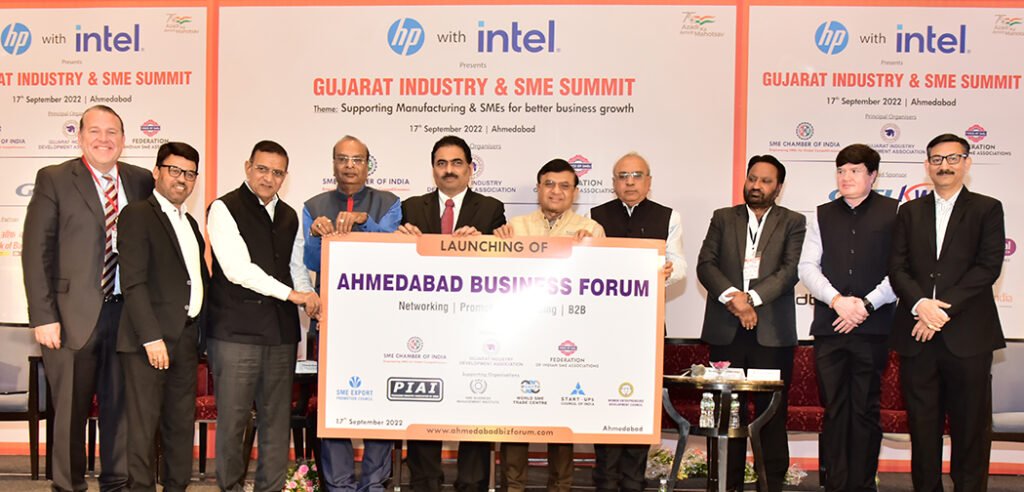 Ahmedabad Business Forum was also launched at the Summit, The Forum will address issues such as networking, promotion, and branding for entrepreneurs, as well as work to boost the state's economy, the dignitaries present who have established their dominance in various fields made numerous suggestions to develop Gujarat's industries and promote small businesses at a rapid pace. There is a significant opportunity in the manufacturing sector, as well as in small and medium-sized businesses. The first meeting of the Business Forum will be held on 1st October 22.
Transformation is very necessary for development of industries: Chandrakant Salunkhe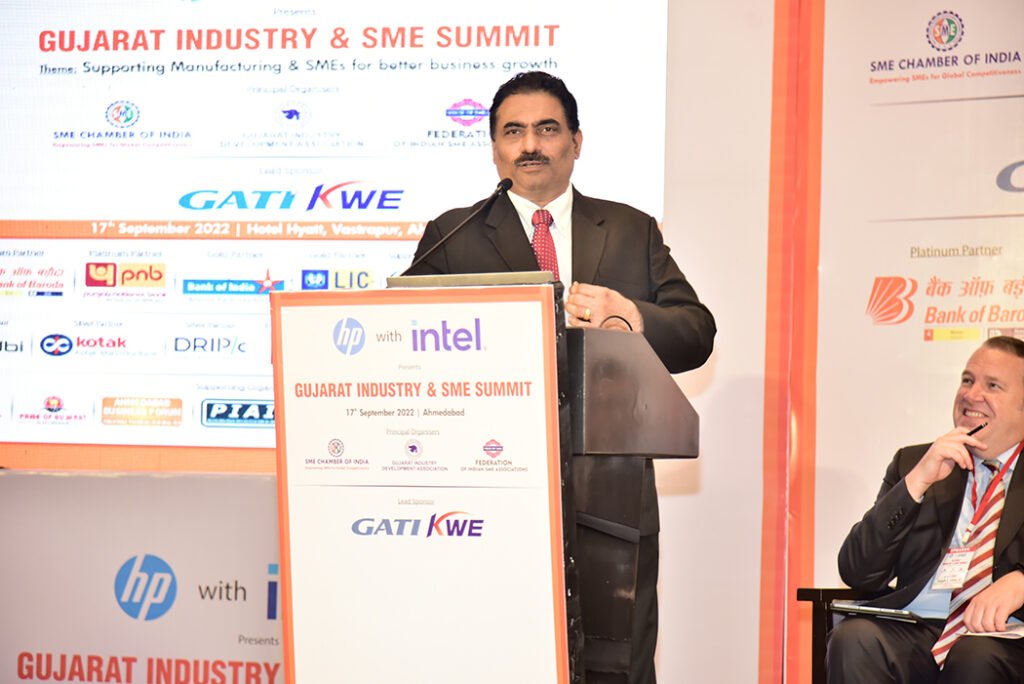 Chandrakant Salunke, Founder and President, SME Chamber of India, said that Prime Minister Modi is well-equipped to lead the nation forward. At that time when industries in the nation are developing quickly on a global scale. 7200 entrepreneurs will be raised and would receive international exposure in the following days in honour of the Prime Minister's 72nd birthday. Transformation is crucial if we want to strengthen the economy. He continued by saying that SMEs should be created as mid-corporates so they can receive numerous government perks. Additionally, SMEs will become more efficient and their costs will go down with the introduction of logistics policy. In the end, he declared that September 17 will be celebrated as Industry Goodwill Day
Opportunity is very high in agro sector: Natwarlal Patel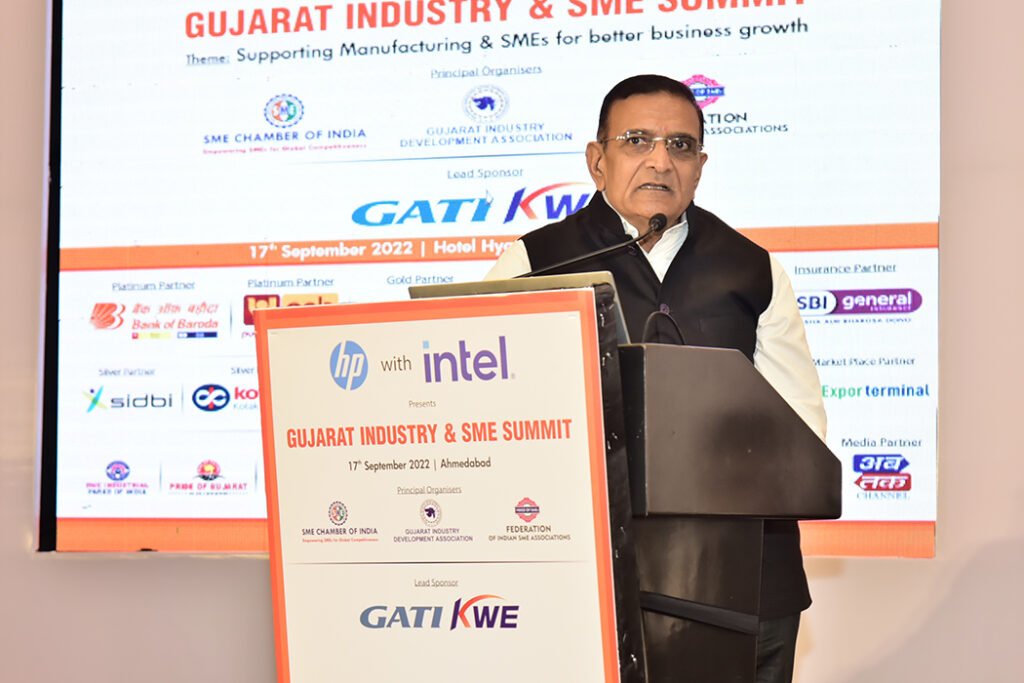 According to Natwarlal Patel of Meghmani Organics, this is the first such event for SMEs that has been organised on a large scale in Ahmedabad. Manufacturing has created numerous opportunities for SMEs, but a lack of awareness has resulted in various issues that must be addressed. There is also a lot of opportunity, in the agricultural sector. The SME industry is rapidly expanding, on the other hand, GST issues are numerous, and the government should take this matter seriously. Currently, the government's PLI scheme has proven to be a huge boon. If the government moves forward, India will become a manufacturing and service sector hub in the twenty-first century.
Small and Medium-Sized Enterprises at the International Level Are Important for the Economy : Mahendra Patel
According to Mahendrabhai Patel of Mamta Group of Companies, small and medium-sized businesses should focus on production and services should be offered by SMEs. In parallel, industry should progress in the direction of a developed India. India is ahead of other nations in the world in area of technology. Finally, he advised industrialists to step up for the improvement of the nation. In today's world, technology is extremely beneficial for many industries, so it is imperative that business owners consistently adopt technology.
Gujarat's industrialists are like flowers in the garden of the state : KT Patel
According to Gujarat's industrialist KT Patel, CMD of Cascade Packaging, are like the flower in the state's garden. He added that Gujarat is the hub of a number of industries that are advancing towards growth and development. This sort of summits is crucial for emerging industries. Gujarat is the nation's economic growth engine, and the overall growth rate has surpassed double digits. This summit will be beneficial to businesspeople and industry in a variety of ways.
The GST rate on Jamnagar brass parts units should be kept low – Lakhabhai Keshwala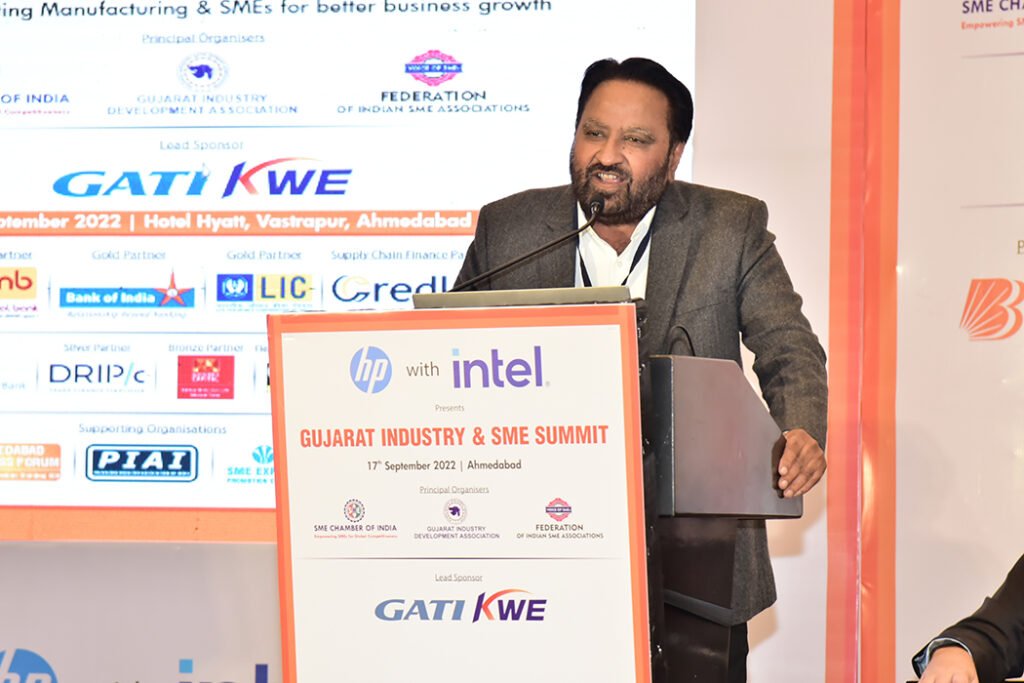 Lakhabhai Keshwala, President of Jamnagar Factory Owners Association, told that the type of planning being implemented in Ahmedabad would benefit not only Saurashtra and Jamnagar but also Gujarat as a whole. He stated that Jamnagar Brass parts units are currently facing various issues related to GST, that may not occur in the near future and he stated that the government should take it seriously. In order to develop the economy of the country, it is very important that the government promotes well-being of the industries and that they act as growth engine of the economy. He added that the issue of counterfeit invoices is having a major impact on his Jamnagar's brass parts sector and the government needs to act quickly and take a stand on the same.
 The ceramic sector will greatly benefit from such a summit and it addresses the challenges of SME industry.: Nilesh Jetaparia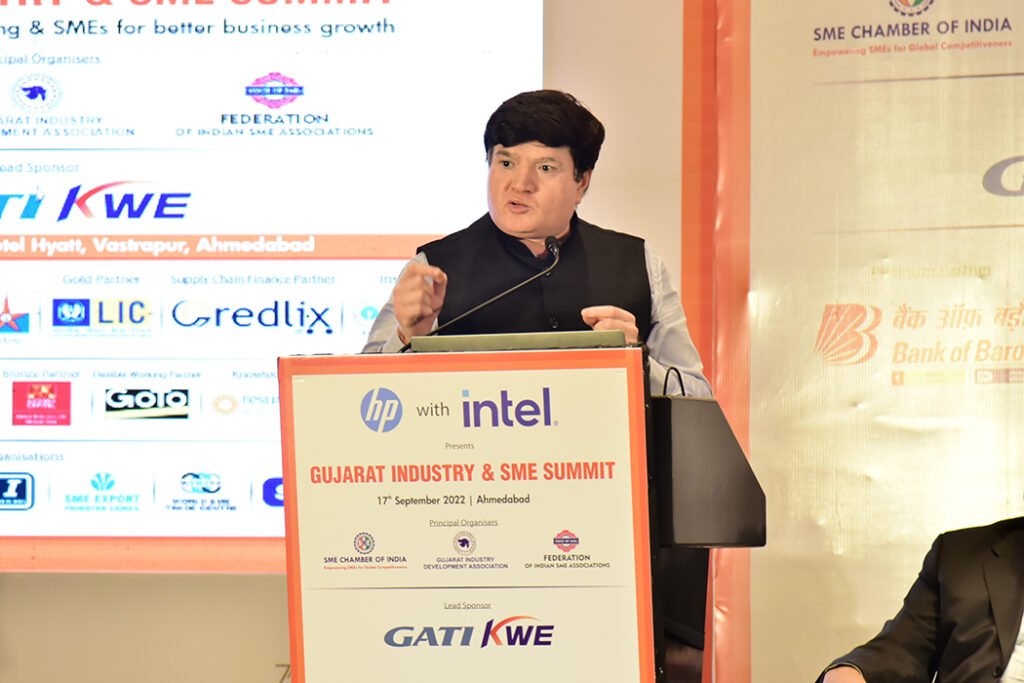 Nileshbhai Jetaparia, of Morbi Ceramics, told that this kind of summit is very helpful for addressing the problems faced by the SME business and that the ceramic industry will gain a lot from such events. He added that many genuine entrepreneurs don't know what government policies are and what benefits the industry can get. Furthermore, Nileshbhai said that the government's decision to establish an export committee at the district level would prove very helpful for small businesses as well as large industries.
Without technology, the SME sector cannot meet its development needs: Shailesh Tripathi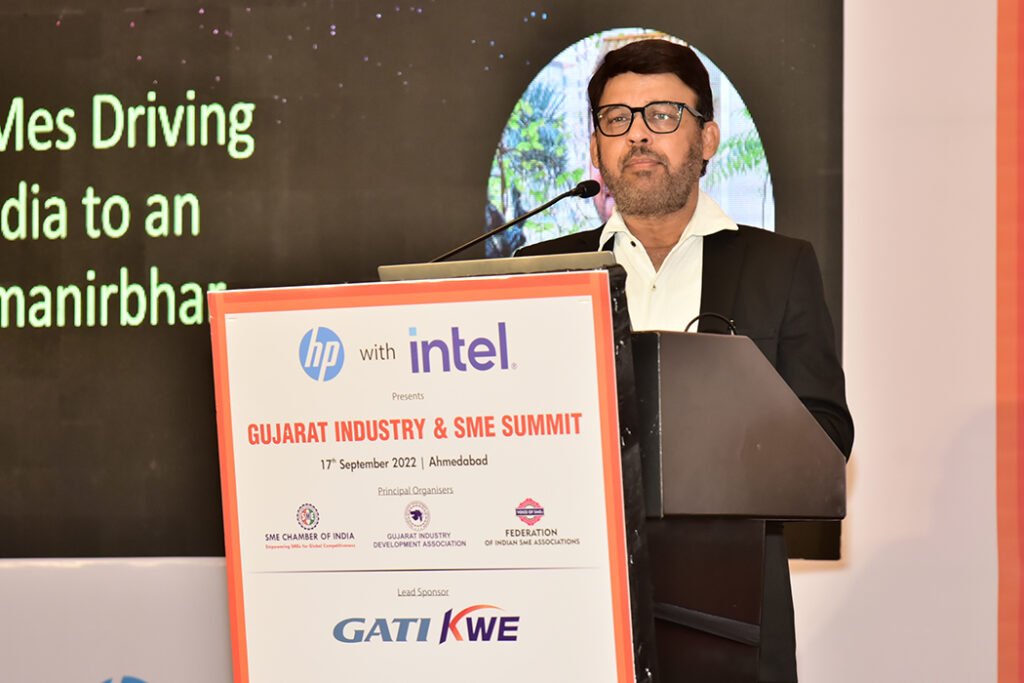 Shailesh Tripathi, Commercial Channel Director, HP India, told that in today's 21st century, no industry can thrive without technology, when it comes to small and micro industries. The contribution of technology is crucial to all these small industries. A one-stop solution has been developed, which avoids potential problems while also allowing for significant cost savings. He also stated that in order to achieve Prime Minister Modi's goal of a five trillion-dollar economy, technology must be used.
 Credlix is ready to provide adequate financial support to small businesses: Pramit Joshi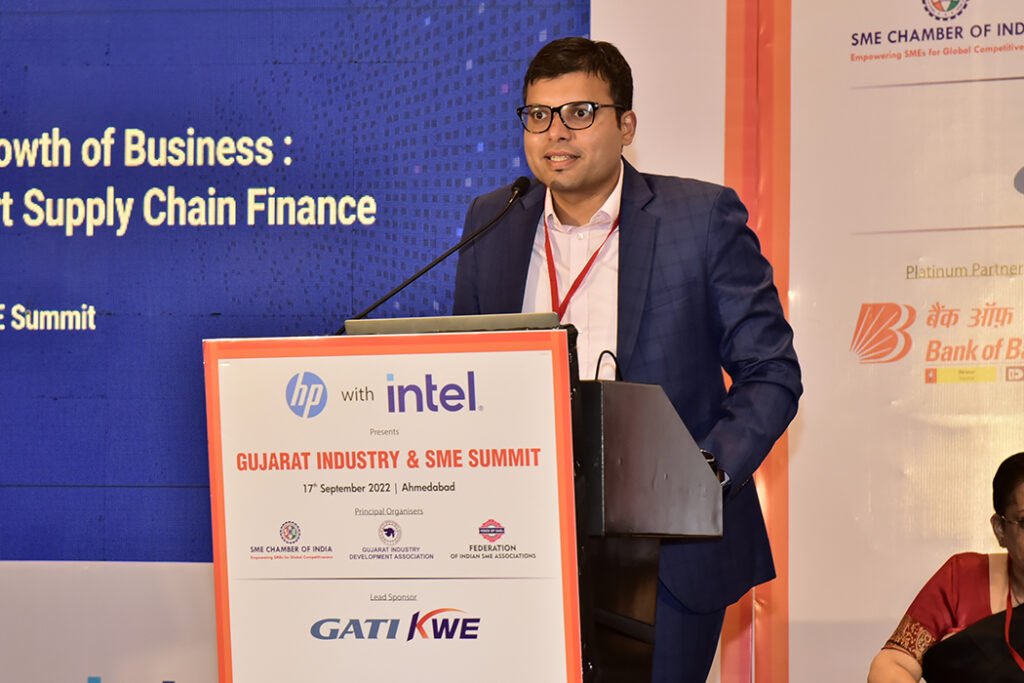 Pramit Joshi – Senior Director, Credlix Finance said that financial support is very necessary for any industry, and now that small businesses are facing financial crisis. Behind this is their lack of awareness somewhere. Government and private financial institutions are eager to accommodate small and medium-sized businesses with various schemes; all they need is enough information. If this type of planning is carried out, other industrialists, in addition to the ones present
Country's SME industry is the backbone of the economy: Mahesh Salunkhe
Gujarat outperforms other states in the SME sector, Mr Maheshkumar Salunkhe, Director – SME Chamber of India, stated . The planning and support to SMEs in state of Gujarat makes it possible to quickly resolve the issues and results in many opportunities for the industry. He continued by saying that the SME sector in the nation is what keeps the economy strong. Considering the way Gujarat Government's promotion of SMEs and the implementation of various programmes, there will be plenty of opportunities for the industry in the future, and new entrepreneurs will be encouraged to venture into this sector.
Bright prospects for India to become five trillion dollar economy by 2025: Ravi Bharti
Ravi Bharati, Gujarat State Director of SME Chamber of India, stated that there are bright prospects for India to reach the $5 trillion economy by 2025; it is important that such events take place more frequently and that small business owners derive profit from them. He continued by saying that India is progressing extremely well internationally, if proper care is taken Gujarat state will also gain enormously from the development of small and medium-sized businesses.
Related Posts