SME Manufacturers & Exporters Summit
Share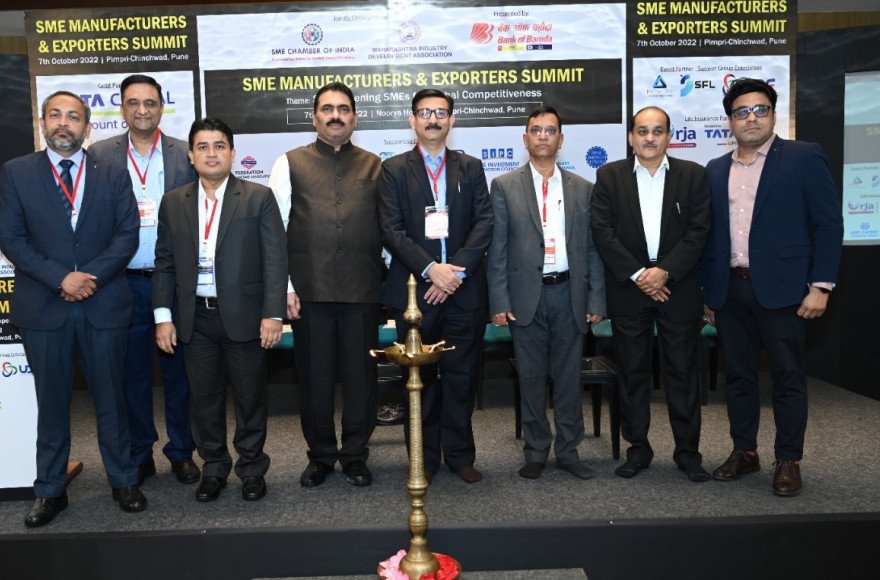 We will work with the state and central governments to find solutions to the entrepreneur's problems and assist them in areas of progress and development, – Chandrakant  Salunkhe
Business owners who wish to succeed without the assistance of a financial advisor should first learn how to read and understand their own balance sheets and business
Plans. Dr. Rajendra Jagdale Director of Information Science and Technology Park stated that they offer grants from Rs 10 lakh to 1 crore to develop and manufacture new products. 'SME Industries and Exporters Summit' organized by 'SME Chamber of India', 'Federation of Indian SME Associations' and 'Maharashtra Industry Development Association' at Pimpri Chinchwad for the upliftment of small and medium enterprises (SMEs), exporters and manufacturing sector. He was speaking as the Chief Guest at the event and stated that we can test their products through Science and Technology Park in any research laboratory in the country. He appealed to entrepreneurs to take advantage of India's bilateral, multi-purpose agreements with other countries for industrial growth.
Shri Srikant Badve, Chairman and Managing Director, Badve Group of Companies advised that there is a need to find new challenges and opportunities for the growth of the industry and companies need to come out of their comfort zones. The concept of Start-Up is very good and if this concept is properly implemented and new industries are promoted, it will not take long to become a self-sufficient India. He said that there are various opportunities in the industry and entrepreneurs should think about how they can spend every day for the growth and development of the industry.
Small scale industries are dependent on large-scale enterprises, and these large-scale enterprises should help and support the growth of small and medium scale enterprises to empower them. Shri Prabhakar Salunke, Chairman of Sumit Group of Industries asserted that the country can achieve double digit growth in the manufacturing sector soon if the technology available to the large enterprises was made available to the small enterprises. He himself started the business in 1992 and now has spread across 21 states and provides employment to 42,000 people in the field of facility management.
Shri. Bhadresh Pathak Business Head, Sufin L & T, a subsidiary of Larsen and Toubro gave information about the portal launched for engineering products
In Pimpri Chinchwad, many industries like automobiles, IT, biotech are growing rapidly and the Chamber is trying to provide strength to Micro, Small and Medium Enterprises (MSME). Shri Chandrakant Salunkhe, Founder and President of the Chamber, assured the businessmen that they will follow up with the State and Central government to solve their problems for the progress and development of the entrepreneurs.
On this occasion, the office bearers of Bank of Baroda, Kotak Mahindra Bank, Tata AIA Life Insurance Company Ltd, SBI General Insurance Company Ltd, Tata Capital Financial Services, Gati Kintetsu Express Private Limited gave speeches on various important issues and guided the delegates
Related Posts