Union Minister Dr Jitendra Singh says, Government will promote Industry-driven Start-Ups to create wealth and jobs
Share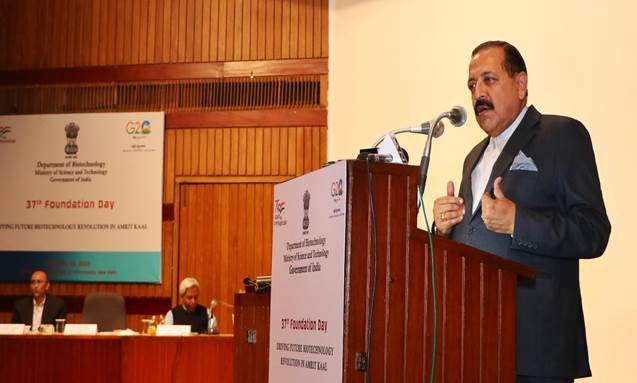 The Minister addresses the 37th Foundation day of Department of Biotechnology (DBT) as Chief Guest at National Institute of Immunology, NII, Delhi
Start-Ups will become sustainable, if Industry from the very beginning will identify the subject/product and invest matching equity with the Government: DrJitendra Singh
DrJitendra Singh assures that funds will not be a constraint under Prime Minister Narendra Modi's Government to promote the "Innovation Ecosystem" in the country
Union Minister of State (Independent Charge) Science & Technology; Minister of State (Independent Charge) Earth Sciences; MoS PMO, Personnel, Public Grievances, Pensions, Atomic Energy and Space, Dr Jitendra Singh today said, Government will promote Industry-driven Start-Ups to create wealth and jobs.
Addressing the 37th Foundation day of Department of Biotechnology (DBT) as Chief Guest at National Institute of Immunology, NII, Delhi, Dr Jitendra Singh called for equal stake with equal partnership and responsibility by Industry to sustain the Start-Ups boom.
The Minister said, Start-Ups will become sustainable, if Industry from the very beginning will identify the theme/subject/product and invest matching equity with the Government. The Minister assured that funds will not be a constraint under Prime Minister Narendra Modi's Government to promote the "Innovation Eco-System" in the country.
Giving the example of Prime Minister Narendra Modi's idea of an Atma Nirbhar Bharat, where India's vaccine strategy brought together pharma, industry and academia in a partnership with an eye on meeting the current as well as possible future challenges, Dr Jitendra Singh said, the idea behind initiatives like this is to have a sustainable partnership in the long run and provide a sustainable source of livelihood to India's youth. He added that the Government of India, led by Prime Minister Modi, is encouraging industrial outreach by extending all possible support.
The Minister also pointed out that last year he had launched Single National Portal "BioRRAP" for Biotech researchers and Start-Ups and also to cater to all those seeking regulatory approval for biological research & development activity in the country and thus offer a huge relief for "Ease of Science as well as Ease of Business". He asserted that India is poised to become a Global Bio-manufacturing Hub and will figure among the top 5 countries of the world by 2025.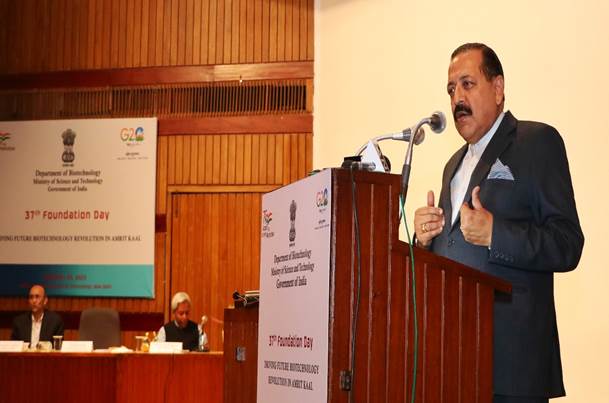 Dr Jitendra Singh pitched for development of India's own Molecule and said for Indian Problems, Indian Remedies must be devised. He said, Biotechnology is the technology of tomorrow as IT has already reaching its saturation point. The Minister emphasized that Biotech will be the key to Amrit Kaal Economy and also for making India a frontline nation in the world.
Dr Jitendra Singh reiterated that India's bio-economy has grown 8 times in the last 8 years under Prime Minister Modi from $10 billion in 2014 to over $80 billion in 2022.Similarly, Biotech Startups have grown 100 times in the last 8 years from 52 odd startups in 2014 to 5300 plus in 2022. He said, 3 Biotech Startups were incorporated every day in 2021 and a total of 1,128 biotech startups were set up in 2021 alone, signaling the rapid growth of the sector in India.
Dr Jitendra Singh pointed out that the Biotechnology Sector in India has evolved over the last three decades and has made significant contribution in various sectors including health, medicine, agriculture, industry and bio-informatics, due to enormous support received both from government & private sector. He underlined that the Biotechnology Sector has seen a rapid growth in the last 9 years and India is now being rated among top 12 biotechnology destinations in the world. He said, more than three times funds allocated to this sector compared to pre-2014 era to make India globally competitive in biotechnology research, innovation, and entrepreneurship and also paving the way for the promising future.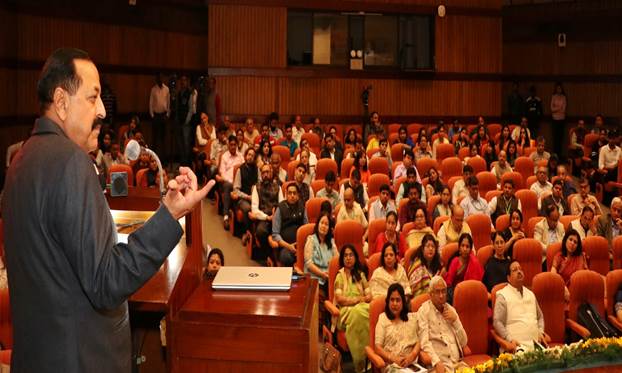 In his address, Secretary, Department of Biotechnology (DBT), Dr Rajesh Gokhale said, India must catch up fast with the Foundational Technologies of 21st Century to remain relevant in the game.He said, Government of India, through the Science, Technology and Innovation, among other things, aspires to position India among the world's top five scientific powers and it is very much committed in supporting scientific research and innovations. He added that DBT is the nodal agency for promotion of Biotechnology in the country and nurturing Biotechnology by creating a strong ecosystem for facilitating basic, early and late translational research and entrepreneurship and also formulation of policies and guidelines in all sectors of biotechnology. Department is relentlessly working towards promotion of research, innovation and technology leading to product development; building capacities, both human resource and infrastructure; fostering national and international partnerships.
Delivering the Foundation Day Lecture, Prof. Rishikesha T Krishnan, Director, Indian Institute of Management, Bengaluru said that Department of Biotechnology is the only department in the Government of India which has got end-to-end approach from Idea to development of final product. He also informed that gathering that it was Biotech or rather the IR8 variety of Rice, which was responsible for the Green Revolution thus making significant contributions to Agri Sector, as the yield was 3 to 4 times per hectare than the normal seed.
Prof K VijayRaghvan in his address said that there was a time when there was a danger that DBT could have been mistaken for Fermentation Technology but thanks to efforts by Dr Ramachandran that it evolved as a separate specialized stream and department. He said, linkage of Biotechnology with Digital Technology will open the floodgates for this sector.
Dr Alka Sharma, Senior Advisor, DBT and MD, BIRAC (Biotechnology Industry Research Assistance Council) in her welcome address said, DBT has established 15 theme-based autonomous institutions across the country. She also informed that one international institution namely the New Delhi center of the International Centre for Genetic Engineering & Biotechnology and two Public Sector Undertakings BIBCOL and BIRAC have also been established for manufacturing of biologicals and fostering and nurturing the startup innovation ecosystem.
Dr. Sanjay Mishra, Senior Scientist presented vote of thanks and took the collective pledge to make DBT, one of the premier Research and Innovation Departments of the country and the world in times to come.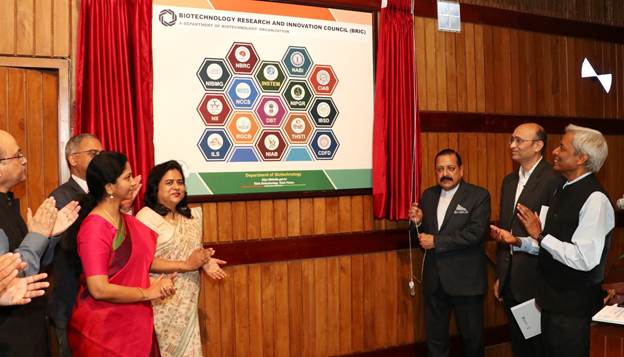 The Department has contributed in strengthening all the diverse aspects of Biotechnology. Some of the major achievements in key areas include: 1. Ease of Governance-Policy Reforms include Biotechnology Research and Innovation Council (BRIC) Department is subsuming its 14 Autonomous Institutions to create one Apex Autonomous Body2. Vaccines for Swasth Bharat; Under Atmanirbhar Bharat 3.0, a special grant of Rs. 900 Crore was allocated to the Department for the implementation of Mission COVID Suraksha towards development of vaccines against COVID-19. Sectoral achievements include a) Genomic Sequencing – Biotechnology Research and Innovation Council (BRIC) ng for Tracking Pathogens b)Therapeutic Interventions c. Regulatory Reforms include Biological Research Regulatory Approval Portal (BioRRAP)– "One Nation One Portal", Biotech-KISAN,(~100/year) for law enforcing agencies, medico-legal applications and quality testing. CDFD offers diagnostic services for various genetic disorders including rare genetic disorders which help iDBT-Centre for DNA Fingerprinting and Diagnostics (CDFD) offers DNA Fingerprinting services.
Source : https://www.pib.gov.in/PressReleasePage.aspx?PRID=1902565
Related Posts