Prime Minister inaugurates post budget webinar on 'Unleashing the Potential — Ease of living using Technology'
Share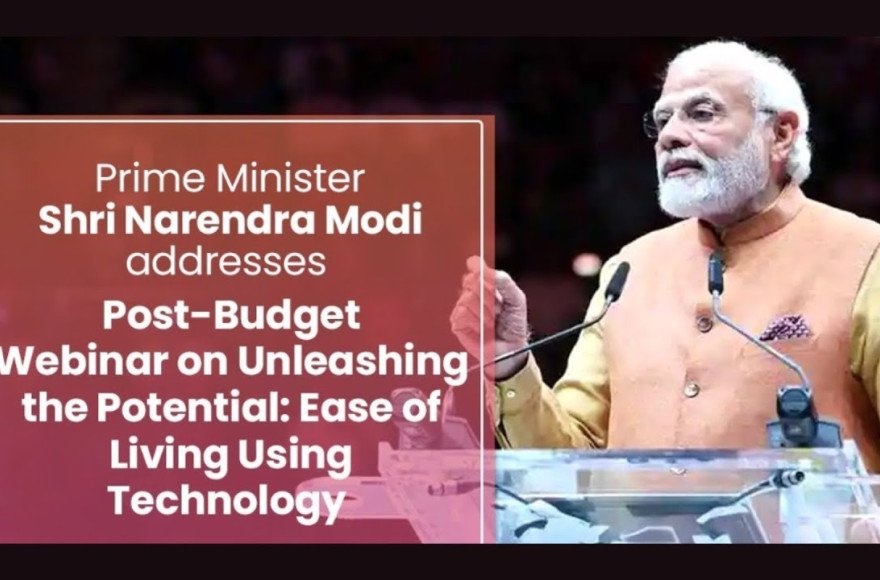 Post budget webinars would go a long way in disseminating information about the budget and give citizens confidence about achieving budget objectives: Shri Piyush Goyal
Shri Piyush Goyal asks all stakeholders to make collective efforts to achieve the objective of ease of doing business and ease of living
Webinar sees participation from more than thousand stakeholders including industry associations, academia, experts, civil society and Government officials
Department for Promotion of Industry and Internal Trade (DPIIT) anchors session on 'Ease of Doing Business using Technology, especially for Small Businesses'
A Post Budget webinar on 'Unleashing the Potential — Ease of living using Technology' held on 28th February 2023. The webinar was inaugurated by Prime Minister, Shri Narendra Modi with his address to participants which included industry associations, academia, experts, civil society and Government officials. In his address he emphasized on the need to enhance Ease of Living by using technology with human touch. He also reiterated that benefits of digital revolution should reach nooks and corners of the society. India has skilled manpower, talented youth, technology adoption capacity which empowers India to become Viksit Bharat by 2047. He also urged that we must identify 10 problems being faced by our country which can be solved using technology and innovative solutions.
The webinar led by MeiTY and co-led by DPIIT was attended by more than 1000 stakeholders on the weblink and YouTube.
Several eminent personalities namely Debjani Ghosh, President, NASSCOM, Justice A. Muhamed Mustaque, Hon'ble High Court of Kerala, Pawan Goenka, Chairman IN-SPACe, Department of Space and Chairman, SCALE, DPIIT, Former MD & CEO Mahindra and Mahindra Ltd, and Akash Ambani, Chairman, Reliance Jio Infocomm participated in the webinar and shared their insights in the Plenary Opening Session after the context setting by Alkesh Kumar Sharma, Secretary MeitY.
As a part of the webinar, four parallel breakout sessions on different themes- Ease of living using technology for access (led by MeitY); ease of accessing justice (led by DoJ); ease of doing business using technology, especially for small businesses (led by DPIIT); and ease of living using 5G use-cases and labs (led by DoT) were organized.
Breakout session on 'Ease of Doing Business using Technology, especially for Small Businesses' was anchored by DPIIT and moderated by Smt. Manmeet K. Nanda, Joint Secretary DPIIT. Valuable discussions were held on the key areas like Common Business Identifier, Simplification of KYC, Unified Filing Process, Ease of Doing Business, Vivad se Vishwas, and Lab Grown Diamonds.  About 150 participants attended the breakout session.
Shri Piyush Goyal, Union Minister of Commerce and Industry, Textiles, Consumer Affairs and Food and Public Distribution in his address at the plenary closing session of the webinar stated that Prime Minister had institutionalized the unique idea of having Post Budget Webinars. He noted that these webinars would go a long way in disseminating information about budget and gives confidence to citizens about achieving budget objectives. He also underlined the need to improve skills of Government employees and sharpen their expertise based on recommendation by private sector and the Mission Karamyogi will go a long way in achieving the same. Minister concluded by stating that all stakeholders should make collective efforts towards the objective of doing business easily in India and making it even more easier to live in India.
Amit Pandey, Vice President, Indian Venture and Alternate Capital Association (IVCA), highlighted the need of having Common Business Identifier (CBI) due to variety of identification numbers issued by different government agencies such as PAN, TIN, GSTIN etc. To ensure that the CBI is meeting the needs of businesses, the government should establish a robust feedback mechanism, encouraging adoption, ensuring data privacy and security, streamlining registration and compliance processes etc.
Piruze Khambatta, Chairman, CII National Committee on Affirmative Action and Group Chairman, Rasna Private Limited, urged for the need of simplification of KYC by constituting C-KYC by leveraging on Blockchain technology; interlinking C-KYC with entity Digi-Locker; adopting similar KYC process by all departments; risk-based approach for KYC due diligence; video KYC etc. Mr. Khambatta highlighted the need for an appellate mechanism for faster resolution of cases involving penalties due to KYC related non-compliance.
Viswanathan Ravichandran, Executive Director Technology, Ernst & Young (EY) discussed the need for Unified Filing Process to increase transparency in compliance requirements and facilitate the same through a Single Window. To reach at the stage of unified filing process, "Know your compliance status" mobile app for understanding the compliance requirements by various business; rationalization of forms to made them available on single window; pre-population of data etc. can be considered. However, privacy and data security concerns to be kept in mind.
Dr. Jaijit Bhattacharya, Founder and President, Centre for Digital Economy Policy Research highlighted that he is one of the key contributors to the Ease of Doing Business exercise that led to meteoric rise in the India's ranking in doing business report. Mr. Bhattacharya, further highlighted on the reforms to drive the next phase of ease of doing business in India by undertaking cost-benefit analysis of all regulations; trade remedies through Anti-Dumping Duties (ADD); small overseas direct investments through ODI route; setting up of centralized compliances portal (eBiz) with APIs for business software to use etc.
Anil Bhardwaj, Secretary General, Federation of Indian Micro and Small & Medium Enterprises (FISME) discussed Vivad se Vishwas scheme for relief to MSMEs in case of failure to execute contracts during COVID period. He highlighted that the GeM Portal should provide support for registering and lodging claims. He said that MSMEs have highlighted the concerns relating to low settlement amount long legal battles, etc. He laid emphasis on the need to conduct due diligence / review by empowered committee of Government agency for merits of the case vis a vis sec-34 of IAC Act challenging verdict of arbitrator, etc.
Prof. M.S. Ramachandra Rao, Professor, IIT Madras, and Prof. Neeraj Khare, Institute Chair & Professor (Physics Department), IIT Delhi spoke about Lab Grown Diamonds. India is a world leader in cutting and polishing diamonds, but high dependency on import of rough diamond, raw materials & machinery. There is need of technology such as HPHT and CVD; need to grow high quality seed crystals; time to set up diamond foundry in India for electronics application. Research is required in this field to grow made in India diamonds.
The house was open for discussions after speakers shared their views and ideas. The audience were provided the opportunity to give suggestions and concerns for implementation of the key areas discussed during the Breakout Session. DPIIT received suggestions / concerns related to funding issues in MSME; dashboards to monitor the progress of approval/registration; multiple audits under GST, Income Tax and Companies Act, etc.; rationalization of interest rate across financial sector for MSME; import and export related issues; trademark issue and payment of fines; single window to check all the applicable compliances; compliance score like CIBIL etc.
Ms. Manmeet K Nanda, JS, DPIIT concluded the breakout session acknowledging the feedback provided by the participants. During the Plenary Closing Session, Ms. Manmeet K Nanda summarized the suggestions and feedback on the session, highlighting the way forward for using technology for improving Ease of Doing Business in India.
Plenary Closing session involved short presentations by moderators of each breakout session. Deliberations in 4 breakout sessions were summarized by moderators.
Source : https://www.pib.gov.in/PressReleasePage.aspx?PRID=1903099
Related Posts