Developed and developing countries must have different goals and timelines
Share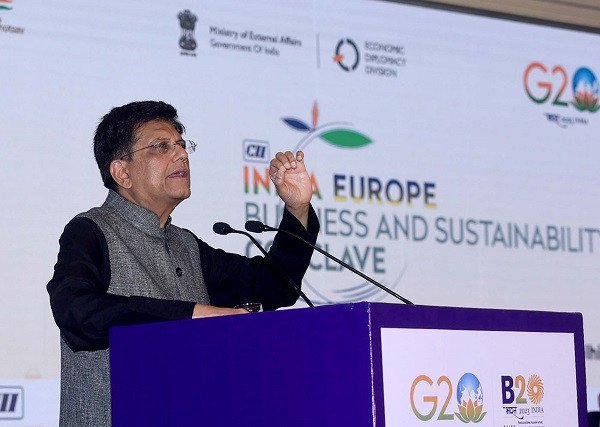 Developed and developing countries must have different goals and timelines while being sensitive to each other's needs, potential goals and roadmap towards sustainability: Shri Piyush Goyal
Minister urges world leaders to recognize that everyone must contribute their fair share in mitigating the climate crisis and achieving sustainable development
Shri Goyal urges business leaders to focus on sustainability and respect for nature
India's partnership with the UK and the EU is significant in the global effort to make the planet safer and greener: Shri Piyush Goyal
Sustainability and inclusive growth are key to India's growth journey: Shri Piyush Goyal
Shri Piyush Goyal, the Union Minister of Commerce and Industry, Consumer Affairs, Food and Public Distribution and Textiles said that developed and developing countries must have different goals and timelines while being sensitive to each other's needs, potential goals and roadmap towards sustainability. He was addressing the gathering at Confederation of Indian Industry's (CII) Special Plenary Session of India Europe Business and Sustainability Conclave in New Delhi today.
Shri Goyal highlighted that India has been one of the top 5 performers when it comes to benchmarking our work and meeting the Nationally Determined Contributions (NDCs). 'Technology, finance and sustainable lifestyles are going to play an important role in ensuring sustainable growth', he opined.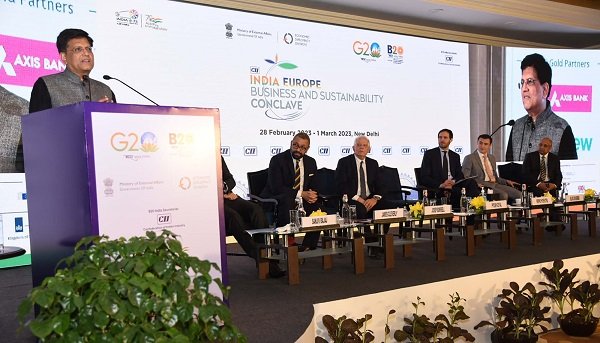 Shri Goyal urged world leaders to recognize that everyone must contribute their fair share in improving energy efficiency, in reducing waste, in boosting the circular economy and in achieving green goals by transitioning and helping other nations transition to green growth to make the world a better place to live in. India's partnership with the UK and the EU is significant in the global effort to make the planet safer and greener, he said.
He reiterated India's commitment to ensuring that sustainability and inclusive growth defined India's growth story. The Minister urged all business leaders to focus on sustainability and ensure that all actions respect nature.
Shri Goyal said that today's businesses understood the value of sustainability and the complementarity of sustainability with business. He stressed that the long-term value proposition for any business came out of sustainability as it would make businesses safer for the stakeholders and prepares us for a better future.
Speaking of Mahatma Gandhi's vision of trusteeship, the Minister said that we must recognize the importance of inter-generational equity and added that we don't inherit the earth from our ancestors but borrow it from our children. He also pointed out that to India, sustainability and respect for nature came traditionally and naturally
The Minister said that to a large extent the climate crisis was created by high levels of consumption and waste generation. He said that only a collective effort would help combat the climate crisis and achieve sustainable growth. He noted that the government would only be able to play the role of an enabler and that it would be business and people at large who would have to adopt practices that lead to sustainable development. 'If we accept this as a global responsibility, a shared commitment for a better world, we can do wonders. We need speed and we need to scale up our efforts for a sustainable world', he observed.
The Minister referred to the jacket that was gifted to the Prime Minister during the Energy Week, that was made out of recycled plastic and said that the PM had worn it to the Parliament and it was a sign and an inspiration that we all needed to contribute to the Green Movement. He emphasized the importance of sustainability and inclusive growth in India's growth journey. He cited Prime Minister Narendra Modi's vision of Zero Defect & Zero Effect Manufacturing, in which quality and sustainability are two crucial elements of India's growth journey.
The Minister said that inclusive growth had been another vision of the Prime Minister, who aimed at bringing prosperity to every single citizen of the country. He noted that the government had succeeded in meeting the basic requirements of life of the masses, thereby raising aspiration levels, especially of the youth, and empowering them to drive economic growth. Shri Goyal highlighted India's large consumer base of 1.4 billion recognizing sustainability as an important element of future growth.
The Special Plenary Session of India Europe Business and Sustainability Conclave saw participation from European Union (EU), The Netherlands, Malta and United Kingdom (UK).
Source : https://www.pib.gov.in/PressReleasePage.aspx?PRID=1903463
Related Posts