G20 India Presidency
Share
Our vision is clear, our goals are ambitious, and our determination is unyielding: Dr. Mansukh Mandaviya
"Healthcare is not just a sector, but a mission"
"With India supplying around 60% of the world's vaccine needs and 20-22% of generic exports, the country is dedicated to providing affordable, high-quality drugs and contribute to global accessibility"
Dr. Mansukh Mandaviya unveils Vision for Healthcare Innovation and Global Collaboration at interaction with G20 Health Ministers' and Industry leaders
Dr. Mandaviya leads G20 delegation on a visit to Jan Aushadhi Kendras
Successful bilateral held between Dr. Mansukh Mandaviya, and Indonesian Health Minister, Mr. Budi G Sadikin
The medicines manufactured in India saves lives- in Netherlands, in Europe and across the world: Dr. Ernst Kuipers, Health Minister of Netherlands
India 's Jan Aushadhi Kendra model is the best in the world in terms of providing quality, accessibility and affordability of medicines to the people: Budi Gunadi Sadikin, Indonesian Health Minister
"Our vision is clear, our goals are ambitious, and our determination is unyielding." This was stated by Dr. Mansukh Mandaviya, Union Minister of Chemicals and Fertilizers in his keynote address to the Indian Industry leaders in pharmaceuticals, and G20 Ministers and Delegates, on the sidelines of the G20 Health Minister's Meeting in Gandhinagar.
Dr. Mandaviya proudly acknowledged India's prowess in the pharmaceuticals and medical devices field, emphasizing its role as a global hub for pharmaceutical excellence. "India is recognized as a cornerstone in the global pharmaceutical landscape," he stated. The country's dedication to providing affordable, high-quality drugs and its significant contribution to global accessibility were underscored, with India supplying around 60% of the world's vaccine needs and 20-22% of generic exports.
Dr. Mandaviya underscored India's unwavering commitment to the well-being of humanity, particularly demonstrated during the COVID-19 pandemic. "In the battle against the pandemic, India supplied essential drugs to approximately 185 countries," he proudly shared, emphasizing India's role as a global leader.
The keynote address focused on India's vision for the future of healthcare, centered around a transition from volume-based approaches to a value-based leadership model. "Our commitment to quality, accessibility, and affordability in healthcare is unwavering," he added. Under the visionary leadership of Prime Minister Narendra Modi, India's government is resolute in driving meaningful change in the healthcare sector.
Acknowledging the paramount importance of research and development in healthcare advancement, Dr. Mandaviya announced India's strides in fostering an innovative environment. He stated that India is in the final stages of introducing a national policy to promoting research and development and innovation in the pharma-medical devices sectors.
Dr. Mandaviya's call to action resonated throughout his address, inviting countries, government bodies, industry leaders, healthcare professionals, and researchers to join forces in a united effort. "Our collective strength has the potential to elevate the pharmaceutical and medical devices sectors to unprecedented heights," he proclaimed. Dr. Mandaviya emphasized, "Healthcare is not just a sector, but a mission, one that aligns with India's commitment to providing the highest quality healthcare to every citizen. Our pharmaceutical and medical devices industry stands as a vital partner in this mission," he reaffirmed.
Mr. Budi G Sadikin, Minister of Health for the Republic of Indonesia, and Dr. Ernst Kuipers, Minister of Netherlands in their opening remarks highlighted India' success in health, and pharmacology, and stressed the need for collaboration between nations. "The medicines manufactured in India saves lives- in Netherlands, in Europe and across the world. I look forward to intensified collaboration with India. There are tremendous opportunities for partnership in innovative medicines. With the capacity and knowledge that India has in generic and specific drugs, we look forward to more integrated collaboration with India." Dr. Kuipers said.
Dr. Mandaviya also had a successful bilateral meeting with the Indonesian Health Minister today. They discussed several issues of cooperation and collaboration in the health sector.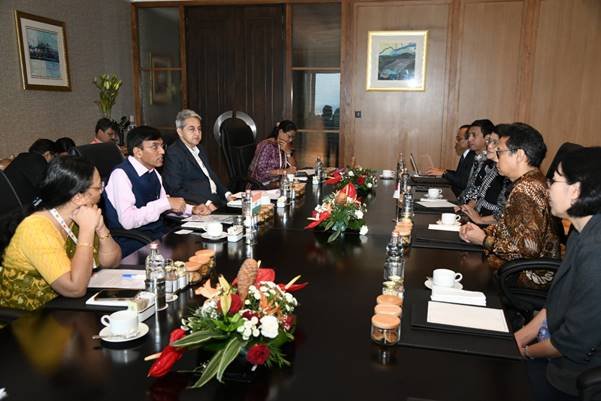 Ms. S Aparna, Secretary, Department of Pharmaceuticals, Ministry of Chemicals and Fertilizers, at the event, highlighted that a platform like this provides an opportunity for industry, and governments across the global to learn from each other, and to support each other towards a common goal of Universal Health Coverage.
She also stressed on the lessons learnt from the Covid-19 pandemic, and said, "The pandemic has taught us that the response to health emergencies cannot be created at will, they require long term development and investment."
Dr. Mandaviya also led a delegation of G20 delegates and ministers, including the Indonesian Health Minister, Mr. Budi G Sadikin to a Jan Aushadhi Kendra to share with them India's success in providing, accessible, affordable, and quality medicines to it's citizens.
Mr. Budi Gunadi Sadikin after the visit said, "I want to give the best medicines to my people in Indonesia. I have seen many models of different countries, and India 's Jan Aushadhi Kendra model the best in the world in terms of providing quality, accessibility and affordability of medicines to the people. "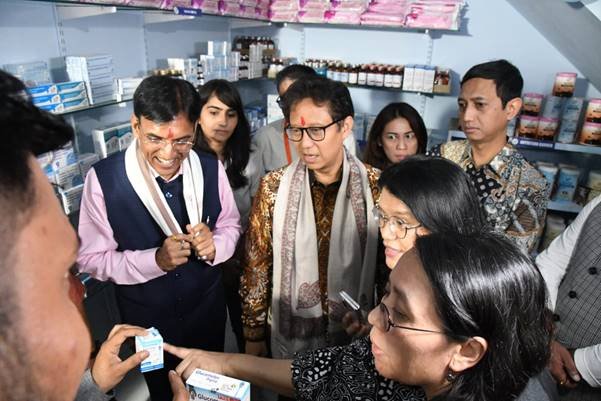 Source : https://pib.gov.in/PressReleasePage.aspx?PRID=1950584
Related Posts