Dr Jitendra Singh launches the CSIR Prima ET11
Share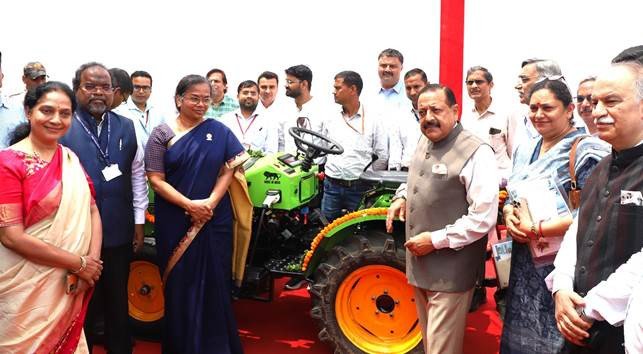 Dr Jitendra Singh launches the CSIR Prima ET11, the first indigenous e-Tractor developed by the Central Mechanical Engineering Research Institute (CMERI), Durgapur; calls for the adoption of new and AI driven technologies in Agriculture
An increasing number of new Startups venturing into the Agriculture sector, focussing on niche technologies, says Dr Jitendra Singh
Dr Jitendra Singh gives the mantra of 5 S's, – Showcasing, Stakeholders, Startups, Synergizing and Strategizing Industry linkage, for the success of CSIR R&D
"In PM Modi, we have a very enabling atmosphere and an enabling leadership, which is quite patronising"
Launching the CSIR Prima ET11, the first indigenous e-Tractor developed by the Central Mechanical Engineering Research Institute (CMERI), Durgapur, Union Minister of State (Independent Charge) Science & Technology; MoS PMO, Personnel, Public Grievances, Pensions, Atomic Energy and Space, Dr Jitendra Singh today underlined the role of Agri StartUps in India's economy and called for the adoption of new and AI driven technologies in Agriculture.
The Minister said, an increasing number of new Startups are venturing into the Agriculture sector, focussing on niche technologies including e-Tractor, recycling garbage, drip irrigation, Genome sequenced farming such as Mango and Lotus, he said.
"This is one sector in which India has rather not taken up the pace that was required," said Dr Jitendra Singh, adding, "This is a huge unexplored resource, which is only exclusive to India. Those countries which had been promoting IT, have been promoting from their point of view because they have their assets; they don't have the agri asset that we have. So we don't have to ape them. If I have plenty of agriculture resource, why not I make use of it… Therefore, this route would be a very important component in India's future economy in the next 25 years."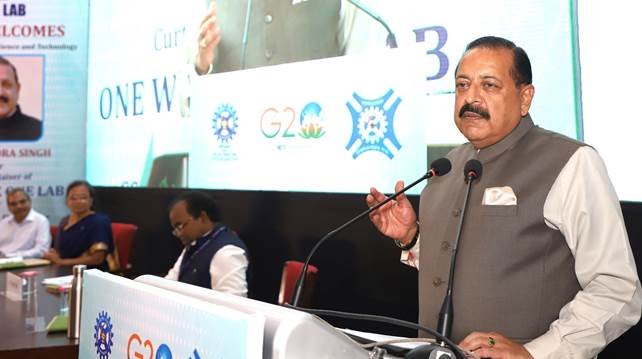 Dr Jitendra Singh gave the mantra of 5 S's, – Showcasing, Stakeholders, Startups, Synergizing and Strategizing Industry linkage, for the success of R&D conducted at Government run scientific laboratories.
"Unless we are able to engage all these five components, we will not be able to achieve the optimum results," he said.
Calling for an integrated approach, Dr Jitendra Singh advocated close interaction with all stakeholders including the concerned Ministries and wider linkages between the CSIR labs and the Industry. The S&T Minister proposed the creation of a separate cell for encouraging investment.
"In order to sustain yourself, you have to have the involvement of Industry right from Day One," he said. "We have an Industry which is ready to invest, but they don't know where and how to invest," he added.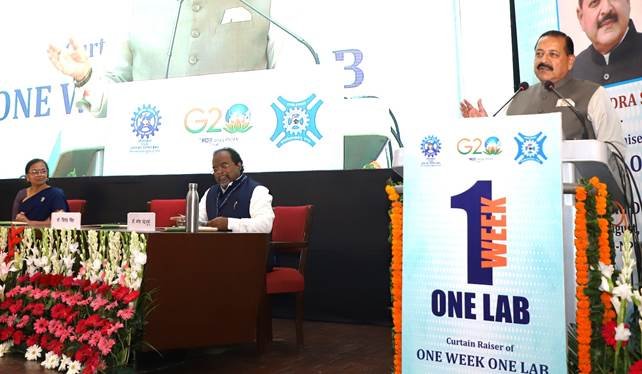 Dr Jitendra Singh said, the Government led by Prime Minister Shri Narendra Modi has created in the last nine years new means of livelihood by opening Ease of Doing Business in the Agriculture sector.
"We have a very enabling atmosphere and an enabling leadership, which is quite patronising," he said, adding, "PM Modi has not only given us the freedom to perform to our full potential and aptitude, but he has also raised the esteem of science and the scientists."
Dr Jitendra Singh said PM Modi has stressed the Agriculture sector will have a defining role in the Amrit Kaal as India aims to emerge as a Developed Nation.
"In the next 25 years, there is an emphasis on Livelihood opportunities outside Government jobs, this Agri sector is not only going to be an important part of the economy, it's also going to be an important part of vocation for the youth," he said.
On the occasion, Dr Jitendra Singh released a book by CSIR-CIMAP and a compendium on 75 technologies developed by CSIR. The Minister took keen interest in the CMERI developed recycling vehicles and products.
The CSIR-CMERI will be celebrating the theme-based campaign "One Week One Lab" from 11-15 September 2023, showcasing the laboratory's cutting-edge research, products and technologies, expertise and facilities to various stakeholders.
Source : https://pib.gov.in/PressReleasePage.aspx?PRID=1950812
Related Posts