Dr. N. Kalaiselvi, DG, CSIR announces Shanti Swarup Bhatnagar Prize for S&T 2022 during OWOL of CSIR-NIScPR
Share
At the inaugural event of 'One Week One Lab' programme of CSIR-National Institute of Science Communication & Policy Research (NIScPR) in New Delhi yesterday, winners of the Shanti Swarup Bhatnagar (SSB) Prize for the year 2022 were announced by Dr. N Kalaiselvi, Secretary, DSIR and Director General, Council of Scientific & Industrial Research (CSIR) in the presence of the Union Minister of State (Independent Charge) Science & Technology; MoS PMO, Personnel, Public Grievances, Pensions, Space and Atomic Energy, Dr Jitendra Singh, who is also the Vice President, CSIR.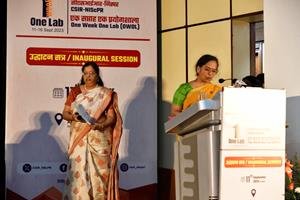 The prestigious SSB Prize for the year 2022 has been awarded to twelve leading scientists in the seven disciplines. Two scientists each have been awarded the prize for Biological, Chemical, Engineering, Mathematical and Physical Sciences respectively. Dr. Ashwani Kumar & Dr. Maddika Subba Reddy in Biological Sciences, Akkattu T Biju & Debabrata Maiti in Chemical Sciences, Dipti Ranjan Sahoo & Rajnish Kumar in Engineering Sciences, Apoorva Khare & Neeraj Kayal in Mathematical Sciences, Anindya Das & Basudeb Dasgupta in Physical Sciences, Vimal Mishra in Earth Sciences and Dipyaman Ganguli in Medical Sciences.
Union Minister Dr. Jitendra Singh graced the occasion as the Chief Guest. Dr. Ranjana Aggarwal, Director, CSIR-NIScPR delivered welcome address. Dr. Geethavani Rayasam, Head, CSIR- Human Resource Development Group delivered citations of the SSB Prize winners.
Source : https://pib.gov.in/PressReleasePage.aspx?PRID=1956672
Related Posts