G-20 Finance Track seminar on 'Global Economy: Challenges, Opportunities and the Way Forward'
Share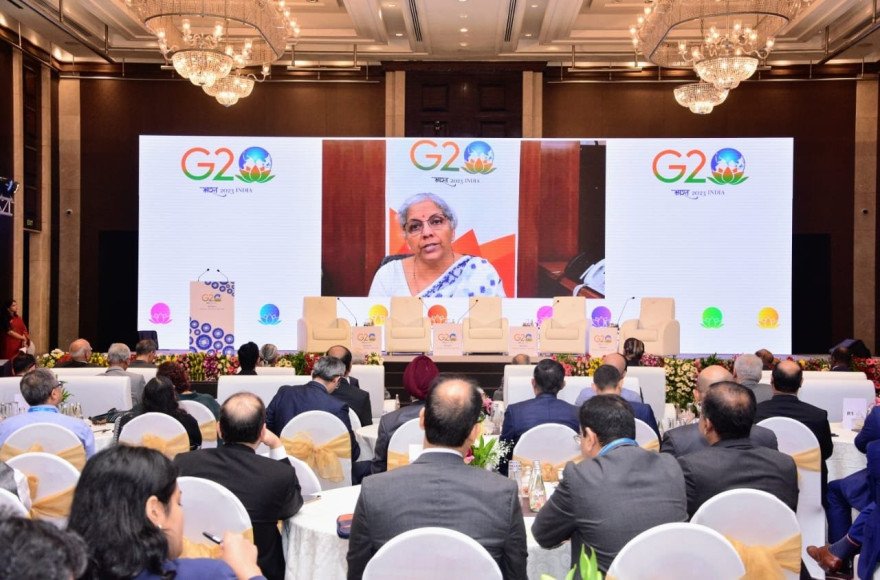 Finance and Corporate Affairs Minister Nirmala Sitharaman delivers keynote address at G-20 Finance Track seminar on 'Global Economy: Challenges, Opportunities and the Way Forward'
"We stand committed to facilitating a secure and dynamic financial environment that benefits all countries and fosters inclusive growth"
India's G-20 Presidency focussed on strengthening multilateral development banks and management of global debt vulnerabilities, demonstrating India's commitment to voicing the concerns of the Global South: Finance Minister
"We are striving to lay the foundation for a robust regulatory landscape that encourages innovation, while ensuring macro-economic and financial stability"
RBI Governor delivers closing remarks in the G-20 Finance Track seminar
A common thread in India's G20 Presidency agenda is 'How to prepare for a better tomorrow for all', stated Union Finance and Corporate Affairs Minister Nirmala Sitharaman today. The finance track has seen the delivery of a sizeable number of outcomes, most of which will contribute towards addressing the present and emerging global economic challenges. India has piloted a huge amount of work in various tracks in more than eight months since India assumed G-20 Presidency, she added. "So far we have ensured that geo-political differences do not supersede the core G20 mandate of international co-operation", she further said. The Union Finance Minister was delivering the keynote address virtually, in a seminar on 'Global Economy: Challenges, Opportunities and the Way Forward' jointly organized by the Department of Economic Affairs, Ministry of Finance and Reserve Bank of India, under the aegis of Finance Track of India's G-20 Presidency, in Mumbai today.  The seminar organized as a part of the International Financial Architecture (IFA) and the Frameworks Working Group under India's G-20 Presidency, in run-up to the G-20 Leaders' Summit in September 2023, had three sessions on: 'Development financing for the 21st century and financing of Global Public Goods', 'Managing Global Debt Vulnerabilities' and 'Key Global Risks: Inflation, Financial Stability and Climate Change'.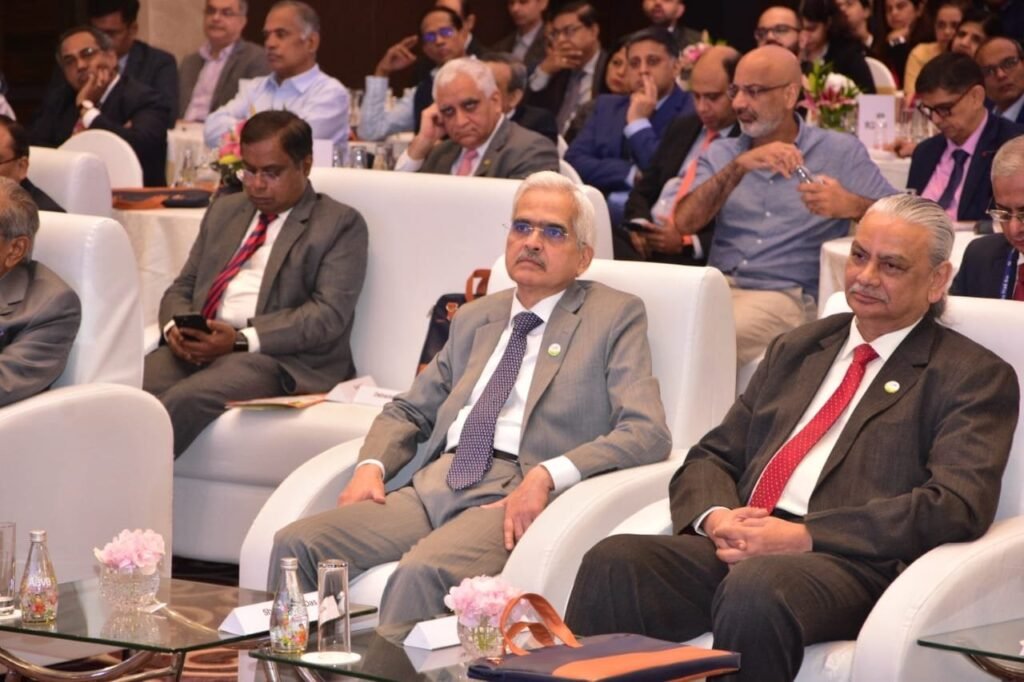 The Finance Minister stated that primary focus of the Indian G-20 Presidency in 2023 has been to strengthen Multilateral Development Banks (MDBs), to address the shared global challenges of the 21st century which they are facing. But, MDBs are also facing increasing demands from donor and borrowing countries to expand their lending operations beyond their core development mandates. However, MDBs are not currently equipped to address this rising demand for their resources adequately, she added. The Finance Minister said, another issue discussed in the G-20 Finance Track is 'Escalation of Debt Issues in Vulnerable Economies', which poses significant economic risks to their sustainable development. The Indian G-20 Presidency has given great importance to the management of global debt vulnerabilities, demonstrating a commitment to voicing the concerns of the Global South, she stated. Finance Minister also stated that, under the G-20 India Presidency, the digital public infrastructure has been integrated into G-20 discussions with member countries recognizing its capacity to enhance productivity and to accelerate financial inclusion.
Finance Minister also stated that "the upcoming synthesis paper developed by the IMF and the FSB, coupled with a roadmap will be instrumental in shaping future regulatory measures for crypto- assets".
Strengthening Multilateral Development Banks:    
Speaking about the issues faced by MDBs, Finance Minister said, after decades of integration, the global economy is starting to witness increasing fragmentation and unravelling multilateralism and that is affecting the MDBs.
Finance Minister Nirmala Sitharaman said, the Indian G-20 Presidency had set up an Independent Expert Group on Strengthening MDBs. The Expert Group, in the Volume-I of their Report has proposed a triple agenda, comprising three crucial recommendations for the MDBs, which are as follows:
i) To tackle global challenges, alongside their core mission of poverty reduction and shared prosperity
ii) To triple their sustainable lending level by 2030
iii) To enhance their financial strength to capital adequacy improvements and general capital increases.
Finance Minister Nirmala Sitharaman said that, implementing these recommendations within each MDB's governance framework can significantly enhance their capacity to address diverse financing challenges in the future with a focus on the priorities of the Global South
The Vol. II of the Report is expected to be submitted before the 4th Working Group and Ministerial Meeting of the G-20 Finance Track in October, 2023.
Escalation of Debt Issues in Vulnerable Economies:
Finance Minister said, "We have made significant efforts in providing momentum for debt treatment for some countries". She urged the international community to collaborate and find stronger ways to coordinate debt restructuring for low income, vulnerable and middle income countries facing debt distress.
Finance Minister Nirmala Sitharaman further said, G-20 also stresses on the criticality of debt vulnerability in low and middle income countries through an effective, comprehensive and systematic approach. By restructuring existing debts and enhancing access to affordable finance, the international community can contribute to releasing financial resources in debtor countries to shield vulnerable populations from economic hardships.
Digital Public Infrastructure (DPI):
In her address, the Finance Minister also said, unlocking the full potential of digital progress for all is essential for a fair and inclusive future in this era of technological transformation. She said, despite notable advancements, disparities in access, usage and quality of financial services persists among vulnerable populations and micro, small and medium enterprises.
Finance Minister further said, G-20 policy recommendations for advancing financial inclusions and productivity gains through DPI, meticulously developed under India's leadership have garnered unanimous acceptance across G-20 members. These can guide both G-20 and non-G-20 countries in harnessing DPI for inclusive and robust growth. "We are striving to lay the foundation for a robust regulatory landscape that encourages innovative, while ensuring macro-economic and financial stability", the Minister added.
Infrastructure Financing:
Nirmala Sitharaman also stated, Indian G-20 Presidency has also emphasized innovative financial models to mobilize private sector investments and address infrastructure financing gaps which is crucial for building future cities. "We have laid the groundwork for G-20 principles for financing cities of tomorrow. This framework holds the potential to guide MDBs and other development financing institutions, in their planning and financing of sustainable urban infrastructure", she said.
RBI Governor Shaktikanta Das in his closing remarks said, today's panel discussion topics are priorities under India's G-20 Presidency. Policymakers across the world today are grappling with multifarious and intertwined challenges in ensuring post-pandemic recovery in the face of elevated inflation, financial market vulnerabilities, reduced policy headroom and geo-political tensions. In this milieu, India's G-20 Presidency aims at enhancing global cooperation to face such challenges, he stated.
Click here to read RBI Governor's Closing Remarks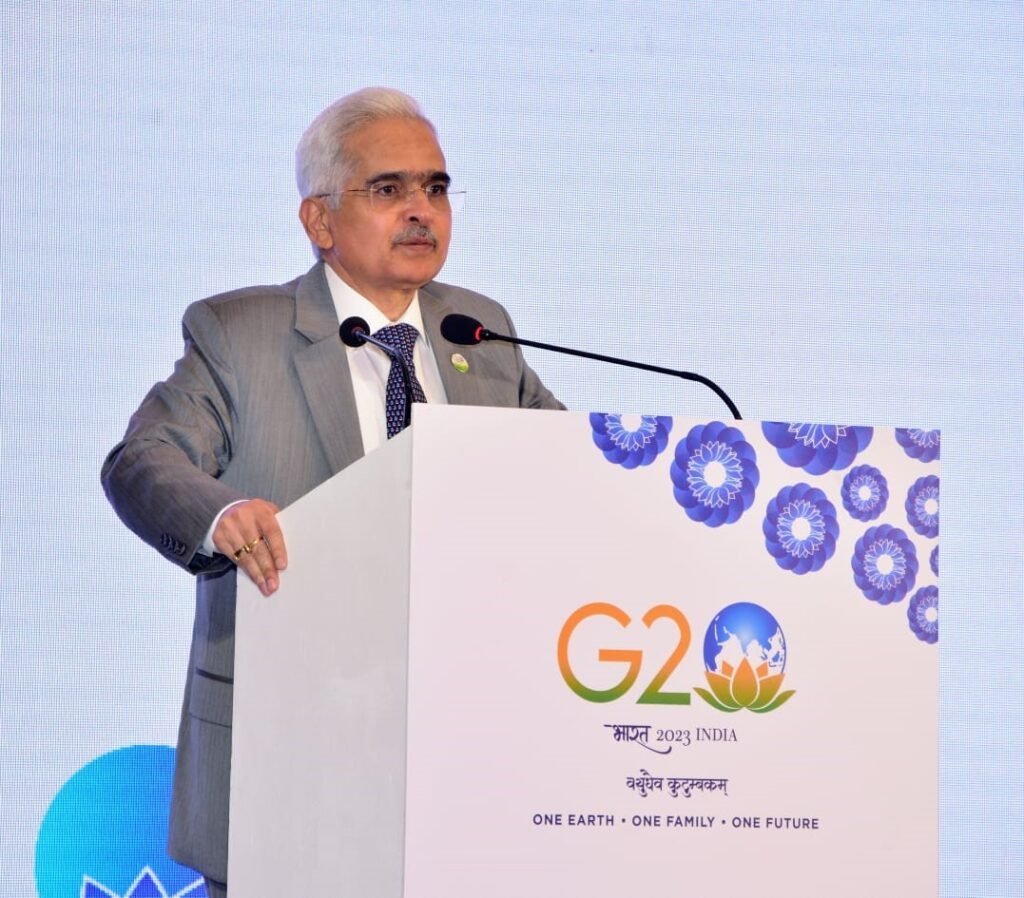 The Chief Economic Advisor, Ministry of Finance, Dr. V. Anantha Nageswaran highlighted the key emerging challenges in the global policy landscape and how Indian G-20 Presidency under the theme of One Earth, One Family, One Future, has worked towards steering the global economy towards a strong, sustainable and balanced inclusive growth.
Source : https://pib.gov.in/PressReleasePage.aspx?PRID=1947785
Related Posts