India and Israel will enhance partnership in areas like innovation and StartUps
Share
India and Israel will enhance partnership in areas like innovation and StartUps, and usher in a new phase of deeper bilateral collaboration, says Union Minister Dr Jitendra Singh
India and Israel today signed a Memorandum of Understanding on Industrial Research and Development Cooperation with focus on several key technology areas
The Multi-Sectoral Agreement was signed between CSIR and Directorate of Defense Research and Development (DDR&D), Ministry of Defense of the State of Israel, in the August Presence of Union Minister for Science & Technology, Dr Jitendra Singh at the CSIR-Science Centre
India and Israel will enhance partnership in areas like innovation and StartUps and usher in a new phase of deeper bilateral collaboration.
This was stated here today by Union Minister of State (Independent Charge) Science & Technology; Minister of State (Independent Charge) Earth Sciences; MoS PMO, Personnel, Public Grievances, Pensions, Atomic Energy and Space, Dr Jitendra Singh when a high-level Israel delegation led by Dr.Daniel Gold, Head of DDR&D, Israeli Ministry of Defence, called on him here today.
On the occasion, India and Israel signed a Memorandum of Understanding on Industrial Research and Development Cooperation with focus on several key technology areas, like Aerospace, Electronics Instrumentation, Civil, Infrastructure & Engineering, Ecology, Environment, Earth & Ocean Sciences and Water, Mining, Minerals, Metals & Materials, Chemicals and Petrochemicals, Energy (Conventional & Non-Conventional) and Energy Devices, Agri, Nutrition & Biotech and Healthcare.
The Multi-Sectoral Agreement was signed between CSIR and Directorate of Defense Research and Development (DDR&D), Ministry of Defense of the State of Israel, in the August Presence of Union Minister for Science & Technology, Dr Jitendra Singh at the CSIR-Science Centre, New Delhi.
Welcoming the signing of the agreement, Dr Jitendra Singh said that 2023 is a very important year for the country as India is holding the G20 presidency under the leadership of Prime Minister Shri Narendra Modi. It is also the year when India and Israel are celebrating 30 years of successful diplomatic relations.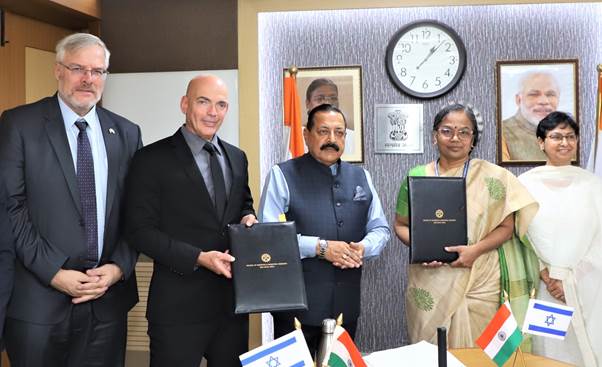 The Minister said he is optimistic that this agreement will open a new phase in India-Israel partnership in areas like Innovation, Technology and StartUps.
The Minister said that India-Israel are not only bilateral partners, but play a larger role to address some of the greatest challenges confronting our world, through joint investments and new initiatives in Water, Energy, Transportation, space, health and food security sectors, through the grouping of India, Israel, the United Arab Emirates, and the United States of America – "I2U2" Group.
Dr Jitendra Singh said that the Government headed by Hon'ble Prime Minister Shri Narendra Modi, has been promoting S&T developments and handholding start-up innovations in our country by providing necessary policy and budgetary support enabling action at the ground level.Science and Technology have always been an integral part of Indian culture. Indian Science has come to be regarded as one of the most powerful instruments of growth and development, especially in the emerging scenario and competitive economy, he said.
The Minister said that Space, Health, Food, Agriculture, Energy, Aerospace, Smart Cities, Environment, Infrastructure, Materials etc. and Sustainable Growth are key pillars and focused areas of our present government.
Brig. Gen. (Ret) Dr.Daniel Gold, Head of DDR&D, Israeli Ministry of Defence said that it is heartening to see that, in 2022-23, India and Israel celebrated 30 years of successful diplomatic relations.India and Israel are very good friends and has lots of potential to collaborate in high technology areas, he said.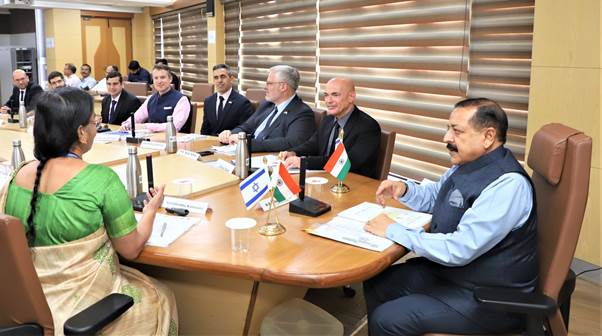 The Minister was happy to note that India and Israel have bilateral consultation mechanisms in all cooperation fields, including water, agriculture, counter-terrorism, and defence. He said that Defense has particularly been the cooperation priority with Israel and in November 2021, Defense R&D Organization (DRDO) and DDR&D have inked a Bilateral Innovation Agreement (BIA) to promote innovation and accelerated R&D in startups and MSMEs of both countries for the development of dual use technologies.
Dr Jitendra Singh said that it is essential to strengthen bilateral ties particularly for technology development and implementation.CSIR with its strong focus on Industrial research and development, could work with its Israeli peers for strengthening each other's domestic industrial sector as also taking their joint developments to other countries.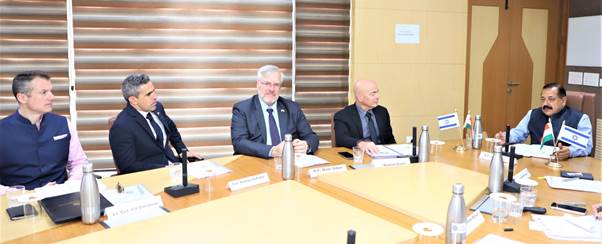 The Minister expressed happiness in knowing that the joint activities have already begun in Healthcare, and a way ahead has been made for other important areas likeAerospace, Quantum technologies, Lasers,Green Hydrogen, Instrumentation and water.
Dr Jitendra Singh concluded by congratulating DG, CSIR and Head DDR&D for their efforts to strengthen the relationship.
Source : https://www.pib.gov.in/PressReleasePage.aspx?PRID=1921427
Related Posts