MSME's for achieving AtamNirbhar Bharat and export promotion
Share
Shri Narayan Rane says Health identified as target sector for import substitution and structured interventions to promote advance manufacturing capabilities among MSME's for achieving AtamNirbhar Bharat and export promotion
Union Minister for MSME Shri Narayan Rane launched the India Health Dialogue (IHD) platform in New Delhi on 3rd May 2023.Addressing the gathering Shri Rane said " Under the inspirational and visionary leadership of our Honourable Prime Minister Shri Narendra Modi ji to make India the global Manufacturing Hub and AtamnNirbhar in all aspects Ministry of MSME is working to execute his vision for India to build resilient global supply chains for the future. Our ministry has  identified  health as a target sector  for import substitution and is partnering with IHD for structured interventions to promote advance manufacturing capabilities  among MSME's for achieving  AtamNirbhar Bharat and export promotion in Health domain".
According to top global health industry  experts and industry leaders at the launch of India Health dialogue  at Indian Council of Medical Research( ICMR) AIIMS Delhi said future-ready technologies and innovations would transform every aspect of health  in India as the country strives for self-reliance (Atmanirbhar Bharat). They were of the view that cutting-edge technologies are going to dominate the future of India and Ministry of MSME's role in building advance manufacturing  ecosystem is critical in making India both  AtamNirbhar Bharat and making India manufacturing Hub in Health and Healthcare.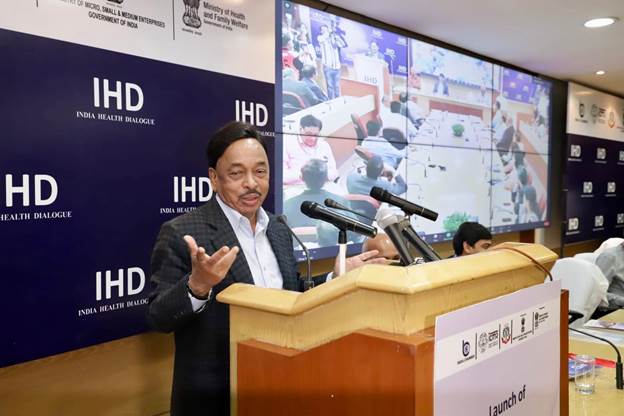 India Health dialogue(IHD) –  a collaborative and stakeholders platform, is a global initiative of India Chamber of Business and Commerce in partnership with Indian Council of Medical research , Indian Medical Association(IMA) and supported by  Ministry of MSME, GOI to build robust ecosystem to revolutionise health and health care sector for the future.
President and CEO of India Chamber Shri Nitin Pangotra said that IHD has been specifically designed as an integrated platform which will be in forefront for driving change and building a profound ecosystem to promote AtamNirbhar Bharat in Healthcare sector. He said this platform also serves a great opportunity for state governments to showcase business and investment opportunities in their respective states . Dr Rajiv Secretary , Health Research  and DG ICMR Dr Rajiv Bahl, expressed their gratitude for launching India Health Dialogue (IHD) in the ICMR campus.
Source : https://pib.gov.in/PressReleasePage.aspx?PRID=1921985
Related Posts