India's first Indigenously developed, Affordable, lightweight, Ultrafast, High Field
Share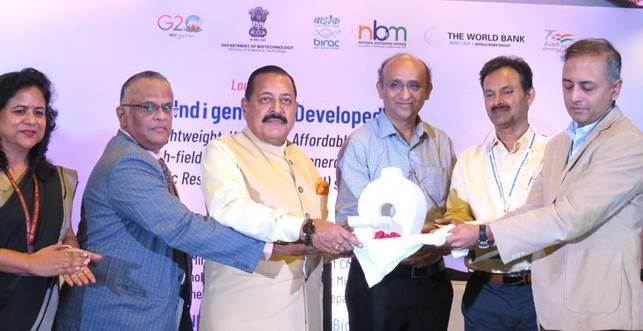 Union Minister Dr Jitendra Singh launches India's first Indigenously developed, Affordable, lightweight, Ultrafast, High Field (1.5 Tesla), Next Generation Magnetic Resonance Imaging (MRI) Scanner in New Delhi
Voxelgrids Innovations Pvt Ltd has developed the MRI Scanner under the National Biopharma Mission of Department of Biotechnology
Cost of MRI scanning is expected to reduce considerably for the common man, besides saving a lot of foreign exchange by removing import dependency: Dr Jitendra Singh
Out of Rs 17 Crore spent for developing the World Class MRI, Rs 12 Crore was provided by DBT through BIRAC
Dr Jitendra Singh says, with scaling up the production, it offers a prospect of sharing this success with other nations in global South to help them to have access to an affordable and dependable medical imaging solutions
Union Minister of State (Independent Charge) Science & Technology; MoS PMO, Personnel, Public Grievances, Pensions, Atomic Energy and Space, Dr Jitendra Singh today launched India's first Indigenously developed, Affordable, lightweight, Ultrafast, High Field (1.5 Tesla), Next Generation Magnetic Resonance Imaging (MRI) Scanner in New Delhi.
Dr Jitendra Singh said, as an indigenous MRI scanner is made available, the cost of MRI scanning is expected to reduce considerably for the common man thus allowing a wider access to the otherwise highly priced MRI scans. He said, additionally, the capital investment of procurement of MRI scanners from the international market will be substantially reduced which in turn will save a lot of foreign exchange, the twin mission objectives of Prime Minister Narendra Modi and the overall objective of Atmanirbharta in cutting edge diagnostic and therapeutic manufacturing in India. The Minister said, in coming years, there will be "Make in India-Made for the World".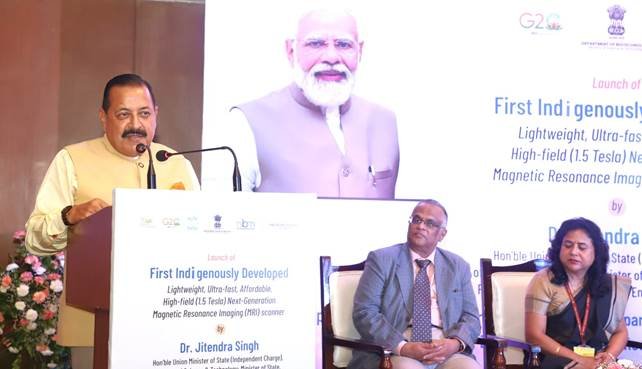 Dr Jitendra Singh said that it is indeed a milestone achievement for National Biopharma Mission (NBM), Biotechnology Industry Research Assistance Council (BIRAC) and Department of Biotechnology (DBT) as we unveil the first indigenously developed state-of-the-art MRI Scanner under Public-Private Partnership mode.
Dr Jitendra Singh informed that Under the National Biopharma Mission, Voxelgrids Innovations Pvt Ltd has developed compact, lightweight, next generation MRI Scanner to solve the unmet need of the country.
The Minister underlined that out of Rs 17 Crore spent for developing the world class MRI, Rs 12 Crore was provided by DBT through BIRAC.
Dr Jitendra Singh said, this combination of next generation hardware with software has enabled to successfully introduce a highly disruptive product in the diagnostic imaging space, as this is the first Indian company to receive commercial sale and manufacture license from CDSCO, Govt of India.

Dr Jitendra Singh pointed out that 70% of the world's population has zero access to Magnetic Resonance Imaging (MRI) diagnostic modality. On comparing other imaging modalities such as CT, X-ray and Ultrasound, access to MRI scanners is typically a factor of 3 less. The reason is prohibitively high capital costs which is a problem in developing counties like India. Current estimates in India indicate that the total installed base of MRI is 4800, which is 3X lower than CT, which is possibly due to high cost and import dependency of this product.
Dr Jitendra Singh informed that currently there is an annual demand of less than 350 machines, but added that with the awareness increasing and also because of the several initiatives of the Government to improve healthcare access and inclusiveness, including the flagship Ayushman Bharat initiative, the annual demand is expected to more than double by 2030 (Globaldata Inc.).
The Minister said, India will address many of these problems by making available the first indigenously developed MRI Scanner which is affordable compared to the already available machines. He said, it also offers a prospect of sharing this success with other nations in global south to help them to have access to an affordable and dependable medical imaging solutions.
Dr Jitendra Singh also informed the gathering that after the passage of the National Research Foundation (NRF) Bill, a brainchild of PM Modi in Parliament, it will forge collaborations among the industry, academia, and government departments and research institutions, and create an interface mechanism for participation and contribution of industries and State governments in addition to the scientific and line ministries. It will focus on creating a policy framework and putting in place regulatory processes that can encourage collaboration and increased spending by the industry on R&D, he added.
Dr Jitendra Singh said, we must acknowledge and thank our able leadership under the guidance of Prime Minister for steering the country in this direction of progress and international recognition, and the role played by national initiatives such as Make in India, Skill India, Start-up India and Digital India in achieving this success. He said, India is moving fast from being a mere consumer of technology to an innovator.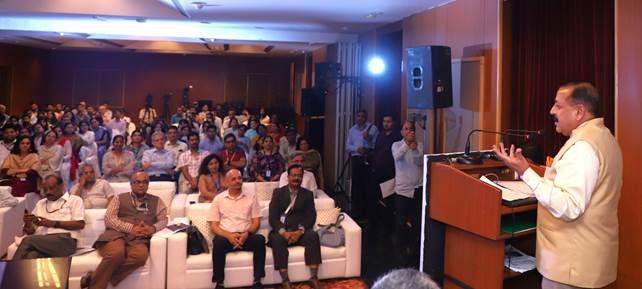 In his address, Secretary, DBT, Dr Rajesh Gokhale said that Department of Biotechnology (DBT) through its various programs has made enormous efforts in strengthening the biopharma sector with attention to devices and diagnostics ecosystem India. The National Biopharma Mission (NBM), of the Department of Biotechnology (DBT), implemented by BIRAC is playing a pivotal role in accelerating India's technological and product development capabilities in vaccines, biotherapeutics including biosimilars, medical devices and diagnostics, he added.
Source : https://pib.gov.in/PressReleasePage.aspx?PRID=1944717
Related Posts