Khadi-Samvad organized to discuss development and expansion of Khadi and Village Industries Program
Share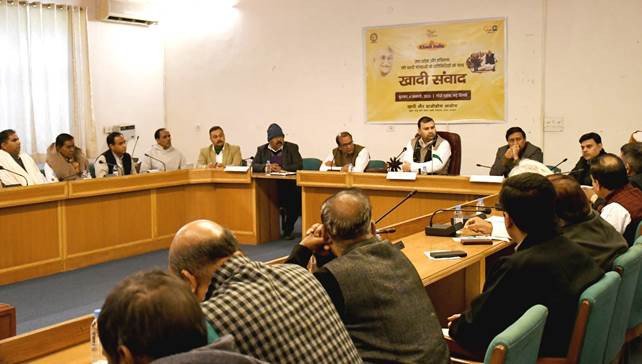 A 'Khadi-Samvad' (Dialogue on Khadi) was organized by the Chairman of Khadi and Village Industries Commission Shri Manoj Kumar, in the presence of the representatives of more than 150 Khadi institutions from across the states of Uttar Pradesh and Haryana. During this Khadi-Samvad held on the occasion of New Year, a detailed discussion was held regarding the development and expansion of the Khadi & Village Industries program. The issues included availability of sliver at a reasonable rate as a raw material for Khadi yarn spinning, and timely payment of subsidy under the MMDA scheme, whereby the Chairman of KVIC assured the spinners-weavers for early resolution of the same issues.
On this occasion, it was informed that compared to the previous year, there has been a record production and sale during current financial year, and Khadi institutions have also got the benefit of participating in the India International Trade Fair etc. It is worth mentioning here that this year IITF organized Khadi India Pavilion with 250 stalls, in which a record sale of Rs.12.06 crores was registered by institutions participating from different states. These institutions got an opportunity to know the interest of the customers and they were encouraged to take forward the program with sustainable employment.
The Chairman of the KVIC expressed satisfaction over the fact that number of new and young people are joining the Khadi sector and they are not only moving towards self-reliance by setting up their own enterprises, but they are also becoming a source of inspiration for other youths, and they are providing employment opportunities to them. He also called upon all the representatives of Khadi institutions to undertake the task of training new work-force in the Khadi sector on traditional charkhas, so that new dimensions would be established in Khadi production, and more and more income reaches to the hands of the spinners & weavers.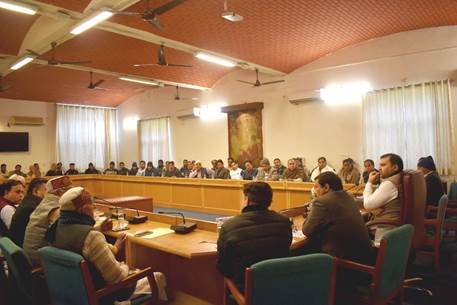 Related Posts