PM to address the post-budget webinar on 'PM VIshwakarma KAushal Samman (PM VIKAS)' on 11th March,2023
Share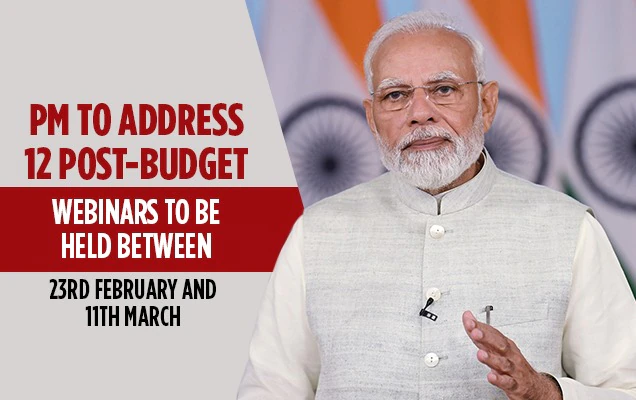 It is a part of 12 post-budget webinars being organized by government to seek ideas for implementation of budgetary announcements
Webinar will have 4 breakout sessions covering the Budget announcement for the MSME sector, PM VIshwakarma KAushal Samman (PM VIKAS), This will involve holding discussions and deliberations with regard to design, structure, and implementation of the new scheme
The Prime Minister Shri Narendra Modi will address the post-budget webinar on 'PM VIshwakarma KAushal Samman (PM VIKAS)' on 11th March , 2023 at around 10 AM. It is a part of a series of 12 post-budget webinars being organised by the Government of India to seek ideas and suggestions for effective implementation of the initiatives announced in the Union Budget. 'PM VIshwakarma KAushal Samman (PM VIKAS)' aims at improving the quality, scale and reach of products/services of artisans/crafts people by integrating them with the domestic and global value chains.
The webinar will have 4 breakout sessions covering the following themes :
1.      Access to affordable finance, including incentives for digital transactions and social security
2.      Advanced skill training and access to modern tools and technology
3.      Marketing support for linkages with domestic and global markets
4.      Structure of the scheme, identification of beneficiaries and implementation framework
Besides Ministers and Secretaries of the concerned Central Government Ministries, a host of stakeholders drawn from the industry, artisans, financial institutions, experts, entrepreneurs and associations along with officials of State governments and attached offices of the Ministries of MSME and Textiles would attend these webinars and contribute through suggestions for better implementation of budgetary announcement.
Source : https://www.pib.gov.in/PressReleasePage.aspx?PRID=1905586
Related Posts