9th International Yoga Day
Share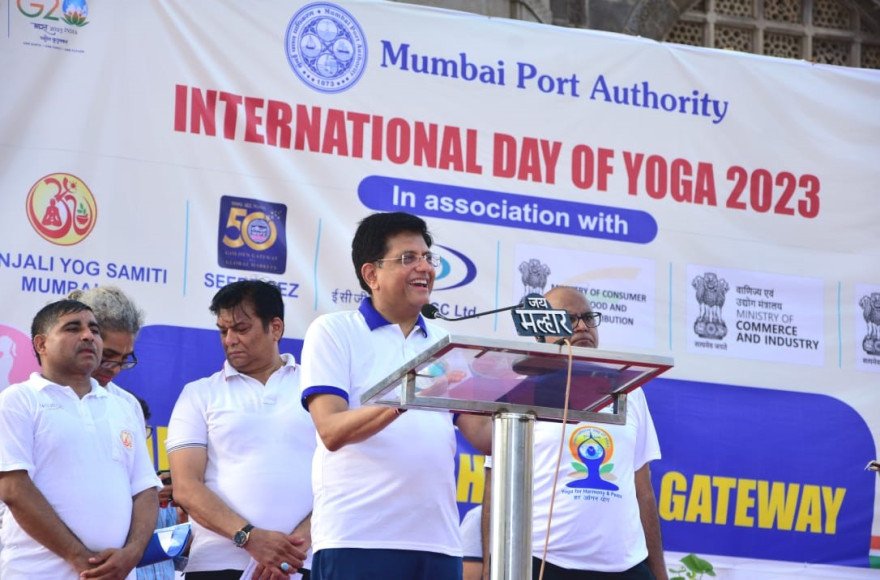 9th International Yoga Day celebrated at Gateway of India in Mumbai in the presence of Union Minister for Commerce & Industry, Consumer Affairs, Food & Public Distribution and Textiles, Shri. Piyush Goyal
Prime Minister Narendra Modi leading the International Yoga Day function at the United Nations Headquarters is a matter of pride for our country – Union Minister Piyush Goyal
The 9th International Yoga Day was celebrated at the Gateway of India in Mumbai this morning in the presence of Union Minister of Commerce and Industry, Consumer Affairs, Food and Public Distribution and Textiles Shri Piyush Goyal and Chief Minister of Maharashtra Shri. Eknath Shinde.
"Prime Minister Narendra Modi leading the International Yoga Day function at the United Nations Headquarters is a matter of pride for our country" said Shri. Piyush Goyal on the occasion. Extolling virtues of yoga through his personal experience, the Minister added that the Prime Minister through his focused efforts, expansive vision and inspiration has bought Yoga on the world stage with the International Yoga Day being celebrated world over on 21st June since 2015. Shri.  Goyal wished everyone on the occasion of International Yoga Day and encouraged them to practice Yoga for a long and healthy life.
Chief Minister Eknath Shinde also interacted with those present and greeted everyone on Yoga Day. Under the guidance of Yoga Guru Suresh Yadav, of Patanjali Yog Sansthan, various Yogasanas were performed by all participants. The program was jointly organized by the Mumbai Port Authority, the Union Ministry of Commerce and Industry, the Union Ministry of Consumer Affairs, Food and Public Distribution, the Union Ministry of Textiles and Patanjali Yog Samithi. Vice Chairman, Mumbai Port Authority Mr. Rajeev Jalota, Director General, Home Guard, Mr. PK Upadhyay, Divisional Commissioner, SEEPZ, Mr. Shyam Jagannathan, Commissioner, Textiles, Smt. Rooprashi, Managing Director and Chairman of ECGC, Mr. Senthilnathan, Commandant, CISF,  Mr. Virendra Pratap Singh, Dr. Amit Gupta of Tata Hospital, office bearers of Pantanjali Yog Sansthan along with senior administrative officers, as well as employees of various departments, representatives of various civil society organizations and youth were present in large numbers for the event.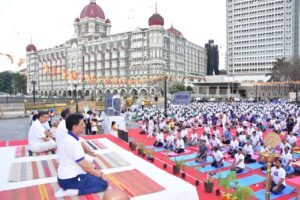 Source : https://pib.gov.in/PressReleasePage.aspx?PRID=1934041
Related Posts