'Khadi Yoga Mat' launched on International Yoga Day
Share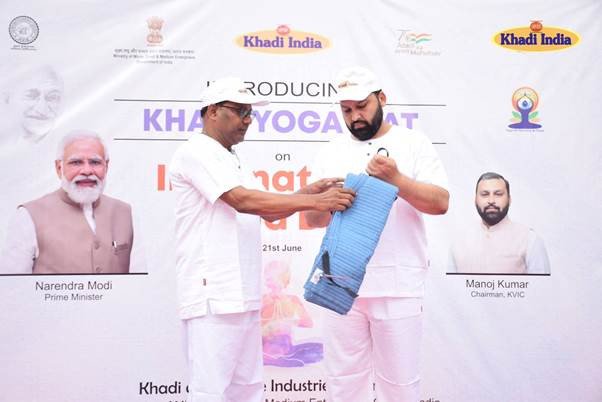 On the auspicious occasion of International Day of Yoga on 21 June 2023, Shri Manoj Kumar, Chairman, Khadi and Village Industries Commission (KVIC) launched the  'Khadi Yoga Mat'  at KVIC Headquarters in Mumbai. Addressing the  program he said that the 'Atmanirbhar Bharat Abhiyaan' under the leadership of Hon'ble Prime Minister Shri Narendra Modi is setting new paradigms day by day. Introduction of 'Khadi Yoga Mat' is also a part of the same campaign. He further added that this Mat is completely indigenous and environment friendly. It has been designed in such a way that all kinds of Yogasanas (exercises) can be performed on it.
On the occasion, the Chairman released margin money grant of about Rs.25 crores to 237 beneficiaries of Western Zone under the Prime Minister's Employment Generation Program (PMEGP) scheme. He congratulated KVIC officials and lakhs of Khadi artisans working in rural areas of country for achieving the historic turnover of Rs.1.34 lakh crores in the financial year 2022-23.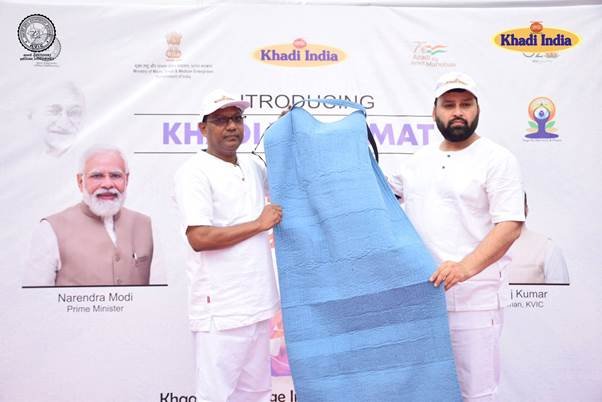 Prior to the launching of 'Khadi Yoga Mat', Shri Manoj Kumar performed Yoga and Pranayama with the officers and employees of KVIC in a program organized in the morning. Addressing the gathering, he said that in the year 2014, it was the efforts of Prime Minister Shri Narendra Modi ji who had proposed the United Nations General Assembly to celebrate Yoga Day, which was soon accepted within a span of three months, and on 21 June 2015, International Yoga Day was celebrated for the first time. He said with the inspiration of Hon'ble Prime Minister Shri Narendra Modi, India in the form of Yoga Guru is now teaching the lessons of Yoga to the world.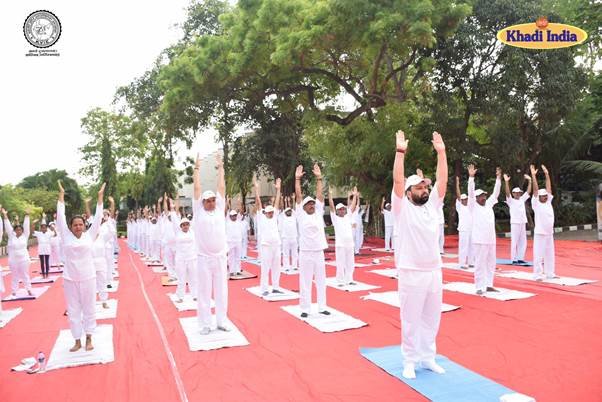 KVIC Chairman further added that under the leadership of Prime Minister  KVIC has taken the concept of "Vocal for Local" and 'Atmanirbhar Bharat' campaign to new heights. For the first time in the history of independent India, the turnover of KVIC products has crossed Rs.1.34 lakh crores, while 9,54,899 new employment opportunities also have been generated in rural areas. He further said that the 'Khadi Yoga Mat' launched today is a completely indigenous product prepared by the skills of Khadi artisans. He said we all have to be vocal for this new local product. And when we become 'Vocal for Local' for our products, then only our products will be able to reach the category of 'Local to Global'.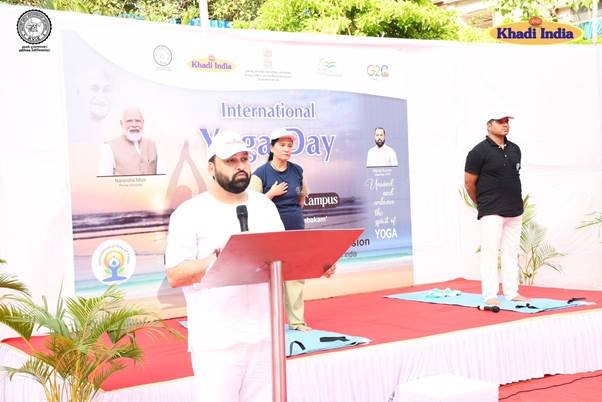 Reiterating the historical achievements of KVIC, he further said that PMEGP has set a new record in bringing together the youths of the country with the Swadeshi Abhiyaan of Prime Minister Shri Narendra Modi. This scheme accomplishes the dream of 'becoming a job creator rather than a job seeker'.
Source : https://pib.gov.in/PressReleasePage.aspx?PRID=1934184
Related Posts