Dr Jitendra Singh proposes mechanism to follow up the progress of StartUps
Share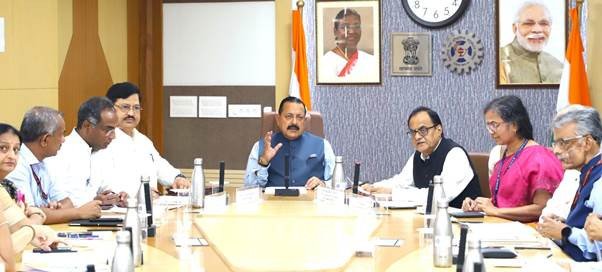 "Modi Govt providing all technical support & finances for ideas and innovations to grow and sustain"
Union Minister Dr Jitendra Singh chairs a high-level joint meeting of Science Ministries and Departments
Union Minister of State (Independent Charge) Science & Technology; MoS PMO, Personnel, Public Grievances, Pensions, Atomic Energy and Space, Dr Jitendra Singh today said that a mechanism needs to be put in place to follow up the progress of Startups as their number have risen to more than a lakh.
"Such a mechanism is sought to be developed that will closely follow up the growth of these Startups, see how to sustain them so as to ensure that they are not lost out, especially those Startups that have received technical and financial support from the Government," the Minister said, chairing a high-level joint meeting of different Science Ministries and Departments, including Science & Technology, Biotechnology, CSIR, Earth Sciences and Atomic Energy.
Dr Jitendra Singh had, some time back, desired that a presentation be prepared, in collaboration with the NITI Aayog, seeking to identify factors which could possibly be constraints for some StartUps. Accordingly, a presentation was made at today's meeting by Dr Chintan Vaishnav from the NITI Aayog.
It was projected in the presentation that lack of innovation, lack of skilled workforce or lack of funds could possibly be the major factors adversely affecting the sustainability of some Startups. The Minister proposed that an exercise could be undertaken to assess whether the Startups could be identified by a "Unique ID" for effective monitoring across all sectors.
Dr Jitendra Singh said, this is the age of innovation and ideas. Under Prime Minister Narendra Modi, the government is providing every kind of technical as well as financial support for ideas and innovations to grow and sustain.  As a result, India has emerged as the leading StartUp ecosystem in the world with more than one lakh StartUps and more than 100 Unicorns and the time has come to strategise sustainability, he added.

The meeting was held as part of the monthly review meetings of Science Secretaries, initiated by Dr Jitendra Singh in order to break the silos and evolve a synergistic integrated approach among different scientific streams.
Principal Scientific Advisor to Government of India, Prof Ajay Kumar Sood and CEO, Atal Innovation Mission, Dr Chintan Vaishnav also addressed the meeting.

Secretary, DSIR & DG, CSIR, Dr N Kalaiselvi; Secretary, Department of Science & Technology, Dr Srivari Chandrasekhar; Secretary, DBT, Dr Rajesh Gokhale; Secretary (Earth Sciences), Dr M Ravichandran; and Chairman, AEC & Secretary, DAE, Dr AK Mohanty attended the deliberations. Senior Officers of the Science Ministries and Departments, including Science & Technology, Biotechnology, CSIR, Earth Sciences and Atomic Energy were also present.
Source : https://pib.gov.in/PressReleasePage.aspx?PRID=1934560
Related Posts