India fast emerging as the world's favourite cost effective healthcare destination
Share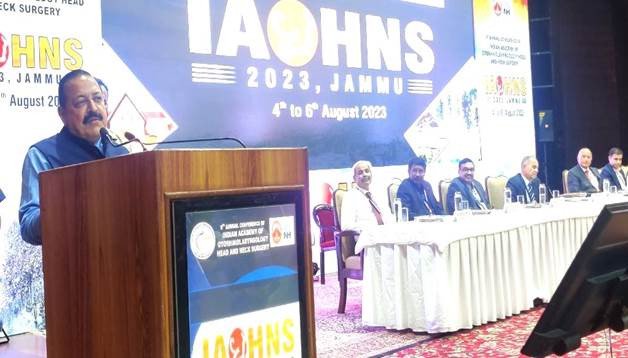 India has taken a lead in last nine years in the areas of Preventive Healthcare, Physical Healthcare and Integrated Healthcare, also being recognised as the top medical tourism destination: Dr. Jitendra Singh
The last 9 years have turned India into a cost effective medical destination, has been possible because of several path breaking healthcare reforms and enabling provisions brought in by PM Narendra Modi: Dr. Jitendra Singh
The government is trying its best to end Urban-Rural healthcare dichotomy, Doctors on Wheels is the best example of it, says Dr. Jitendra Singh
Ayushman Bharat is so far the world's best health insurance scheme and credit goes to Prime Minister Narendra Modi for having conceptualized it: Dr. Jitendra Singh
Dr. Jitendra Singh inaugurates Annual Conference of Indian Academy of Otorhinolaryngology Head & Neck Surgery
Union Minister of State (Independent Charge) Science & Technology; MoS PMO, Personnel, Public Grievances, Pensions, Atomic Energy and Space, Dr Jitendra Singh today said that India is fast emerging as the world's favourite cost-effective healthcare destination.India already taken a lead in the areas of Preventive Healthcare and Integrated healthcare, he added.
Dr. Jitendra Singh said this while inaugurating the Annual Conference of Indian Academy of Otorhinolaryngology Head & Neck Surgery organised by Shri Mata Vaishno Devi Narayana Superspeciality Hospital at Convention Centre, Jammu.
Dr Jitendra Singh asserted that Ayushman Bharat is so far the world's best health insurance scheme and credit goes to Prime Minister Narendra Modi for having conceptualised it.This is possibly the only health insurance scheme in the world which offers the option of seeking insurance cover even for a pre-existing disease, like for example, if today a person is detected having cancer, he can thereafter go and get himself insured to receive the financial support for treatment which is not seen anywhere even among the developed nations, Dr. Jitendra Singh added.
Dr Jitendra Singh said, by bringing in Ayushman Bharat, India has moved from sectoral and segmented approach of health service delivery to a comprehensive need-based health care service.
Dr Jitendra Singh said, the last 9 years have turned India into a cost effective medical destination and this has been possible because of several path breaking healthcare reforms and enabling provisions brought in by Prime Minister Shri Narendra Modi ever since he took over in 2014. Previously India was hardly known for any preventive healthcare but today India is recognised as the vaccination hub of the world having produced DNA Covid Vaccine, world's first intra-nasal Covid Vaccine, India's first indigenously developed vaccine, "CERVAVAC" for the prevention of cervical cancer and many other vaccines for different diseases, Dr. Jitendra Singh added.
Dr. Jitendra Singh asserted for the morepromotion PPP (Public-Private Partnership) model for healthcare services which is the need of the hour especially to put an end to the urban-rural dichotomy in healthcare services for which many unimaginable initiatives have been taken by this government like the 'Doctors in Wheels' to bring healthcare to the last man in the queue.
Dr. Jitendra Singh said, healthcare has been the top priority of this government which can be judged for the statistics that from mere 145 medical colleges, the number has increased to 260, 16 AIIMS, hundreds of Dialysis Centres etc. India has taken a quantum leap in the start-up ecosystem, space technology the recent being launch of Chandrayaan-3, Quantum Technology etc., Dr. Jitendra Singh added.
Besides other dignitaries, the annual conference was attended by Padma Shri Dr. Mohan Kameswaran, IAOHNS Chairman, Dr. Madan Kapre, President IAOHNS, Dr. P VijayaKrishanan, Decrease IOAHNS, Dr. Sunil Kotwal, Org. Chairman IOAHNS, Dr. Rohan Gupta, Org. Secretary IOAHNS, Dr. I.P Singh and Dr. R.S. Anand Kumar.
Source : https://pib.gov.in/PressReleasePage.aspx?PRID=1946039
Related Posts