Lavender capital of India and Agri StartUp destination
Share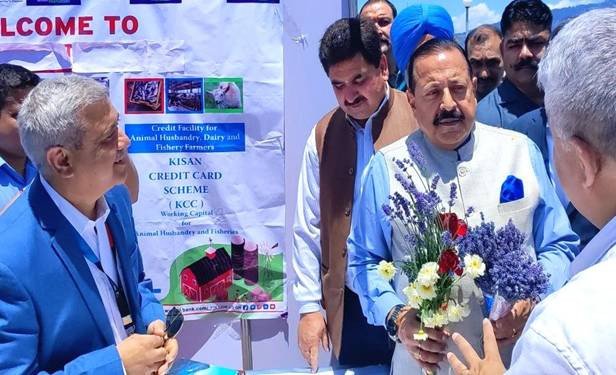 Bhaderwah has emerged as the Lavender capital of India and Agri StartUp destination, says Union Minister Dr Jitendra Singh
CSIR-IIIM organised One Week One Lab Campaign
Lavender Festival as Day 1 event inaugurated by Dr. Jitendra Singh
It is a moment of pride for all of us…Bhaderwah has emerged as the Lavender capital of India and Agri StartUp destination.
This was stated today by Union Minister Dr Jitendra Singh while inaugurating the 2 -day Lavender festival at Bhaderwah in Jammu region.
CSIR- Indian Institute of Integrative Medicine, Jammu has organised the event as part of its One Week One Lab Campaign.
Dr Jitendra Singh described Bhaderwah as the birthplace of India's Purple Revolution and the destination of Agri-StartUps.
The Minister said that the valley of Bhaderwah is the best example of development of the present progressive government at the centre which should have been celebrated much earlier, Bhaderwah being the best place for lavender cultivation in terms of land and climate.
Dr. Jitendra Singh while referring to the lavender cultivation in the region, said that Lavender is an avenue of employment generation and research opening many paradigms of development.
The lavender cultivation has changed the lives of many farmers and it is heartening to note that Prime Minister of India, Shri Narendra Modi, in the 99th Edition of Mann ki Baat, appreciated the efforts of the Council of Scientific & Industrial Research- Indian Institute of Integrative Medicine (CSIR-IIIM) in supporting farmers in the cultivation of Lavender in the Bhaderwah, Doda district, J&K under CSIR-Aroma Mission. He said, "Farmers had been engaged in traditional maize cultivation for decades, but some farmers thought of doing something different. They turned to floriculture, that is, the cultivation of flowers. Today, around two and a half thousand farmers are cultivating Lavender here. They have also been handheld through the Aroma Mission of the Central Government. This new cultivation has greatly increased the income of the farmers."
The CSIR-Aroma Mission is a flagship project of CSIR under which Lavender cultivation is being promoted in the temperate regions of J&K. The aim of the project is to increase the income of small and marginal farmers and develop agriculture-based Startups. The project is being directly monitored by Dr. Jitendra Singh, Hon'ble Union Minister of State (IC) of the Ministry of Science & Technology. Under his directions, CSIR-IIIM is implementing Lavender cultivation in Bhaderwah and other parts of J&K.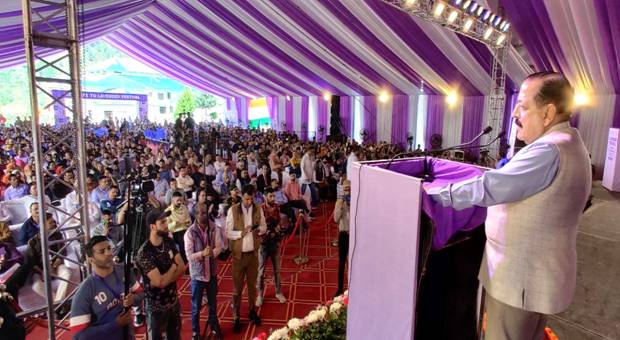 It is important to mention that over many decades of scientific interventions, the CSIR-IIIM has developed its elite variety (RRL-12) and agrotechnology of Lavender. The variety of Lavender is highly suitable for cultivation in the rainfed temperate regions of India. Under CSIR-Aroma Mission, CSIR-IIIM introduced Lavender and provided more than 30 Lakh free Lavender plants to the farmers of different districts of J&K. The end-to-end technology package for cultivation, processing, value addition, and marketing of the Lavender crop were also provided to the farmers. CSIR-IIIM installed fifty distillation units (45 fixed and five mobile) at different locations across J&K to support farmers in processing their produce.
Many small and marginal maize farmers in the temperate regions of the Jammu division have successfully adopted Lavender. Lavender cultivation has employed large numbers of farmers and young entrepreneurs in the geographically remote regions of J&K. Due to the intervention of CSIR-IIIM, a new industry around Lavender cultivation has developed in the region. More than 2500 farmers are cultivating Lavender in different parts of J&K. Women are primarily employed in the Lavender fields for harvesting and processing the flower, which has increased women's income in the region. Many young entrepreneurs have started small-scale businesses through the value addition of Lavender oil, hydrosol, and flowers. CSIR-IIIM conducted many skills development programs and trained more than 2500 farmers and young entrepreneurs from J&K on Lavender cultivation, processing, value addition, and marketing.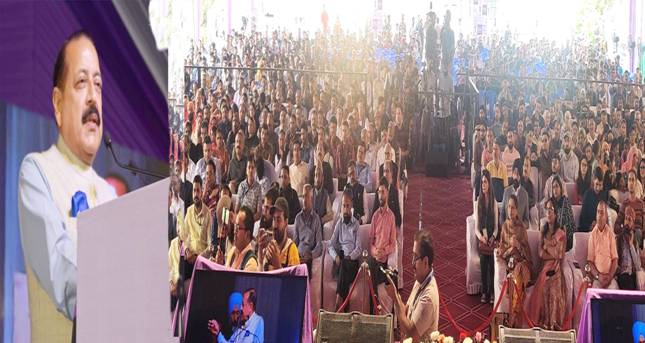 The net annual income of farmers who switched from maize to Lavender cultivation has increased many folds from around Rs. 40,000/- to Rs. 60,000/- per hectare to Rs. 3,50,000/- to Rs. 6,00,000/- per hectare. Farmers of the Bhaderwah, Doda district, produced 300, 500, 800, and 1500 Litres of Lavender oil in 2019, 2020, 2021, and 2022, respectively. They earned > Rs. 5.0 Crore between 2018-2022 by selling dry flowers, Lavender plants, and Lavender oil. The successful end-to-end technology transfer on the cultivation of Lavender to the farmers of J&K by CSIR-IIIM, Jammu, under Aroma Mission has been widely covered nationally and internationally by print and electronic media. The media has recognized this initiative of CSIR-IIIM as the "Purple Revolution." CSIR-IIIM received the CSIR award for S&T innovations for rural development (CAIRD- 2020) for Purple Revolution in Jammu & Kashmir: Rural Development Through Lavender Cultivation in J&K.
Prominent among many others present were Dr. D Srinivasa Reddy, Director, CSIR-IICT, Dr. Zabeer Ahmed, Director, CSIR-IIIM, Jammu, Dhanetar Singh, DDC Chairman, Doda, Sangeeta Rani Bhagat, DDC Vice Chairman, Doda, Vishesh Paul Mahajan, Deputy Commissioner Doda.
Source : https://pib.gov.in/PressReleasePage.aspx?PRID=1929731
Related Posts