Tool-kits and machineries to artisans under 'Gramodyog Vikas Yojna' distributed in Bhubaneswar, Odisha
Share
The Chairman of the Khadi and Village Industries Commission (KVIC), Ministry of Micro, Small and Medium Enterprises, Shri Manoj Kumar distributed tool-kits and machineries to artisans in a distribution ceremony in Bhubaneshwar (Odisha) on September 01, 2023. During this event, Electric Wheels were distributed to 100 potters, Footwear Toolkits were provided to 75 Leather Artisans and Paper Massey Machines were given to 60 artisans as a part of the Gramodyog Vikas Yojana. The Member of Parliament from the Bhubaneswar Lok-Sabha Constituency, Smt. Aparajita Sarangi and Shri Manoj Kumar Singh, Member East Zone KVIC were also present on the occasion.
An Artisan Sammelan and a Pottery-Expo organized under the Gramodyog Vikas Yojana was organised at the Kalinga Institute of Industrial Technology campus in Bhubaneshwar. Smt. Aparajita Sarangi highlighted the commendable achievements of KVIC in the last 9 years under the leadership of the Prime Minister Shri Narendra Modi. She emphasized that KVIC is actively contributing to the realization of the "Atmanirbhar Bharat" vision and playing a vital role in generating employment opportunities in rural India.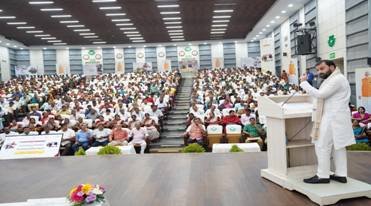 Addressing at the event, Shri Manoj Kumar said that over the course of the past 9 years, the Prime Minister Shri Narendra Modi has actively elevated India's cherished national heritage called "Khadi," to various international platforms. Through his dedicated endeavours, Khadi has now evolved into a prominent global brand. Shri Manoj Kumar further articulated that during India's struggle for independence, Khadi was embraced as the central tool in the Swadeshi movement by the father of the nation Mahatma Gandhi. Remarkably, in the contemporary context, Prime Minister Shri Narendra Modi has now effectively positioned 'Khadi' as a potent and successful instrument for alleviating poverty, empowering artisans, ensuring food security, promoting women's empowerment, and addressing unemployment. Under his capable leadership, KVIC's products achieved an unprecedented turnover of over Rs.1.34 lakh crores in the previous fiscal year, marking a historic milestone.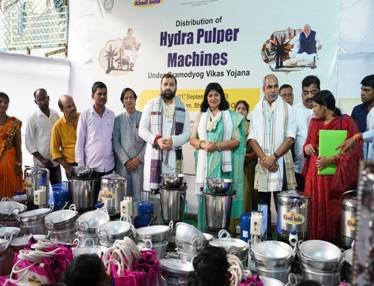 Citing data from NITI Aayog, the Chairman of KVIC highlighted that over the past 5 years, a remarkable 13.5 crore individuals have successfully transcended the poverty line in India. Notably, Khadi, under the visionary guidance of the Prime Minister Shri Narendra Modi, has played a substantial role in uplifting people from poverty in rural areas throughout the nation.During the fiscal year 2022-23, KVIC has contributed significantly to employment generation, by providing impressive total of 9,54,899 new job opportunities.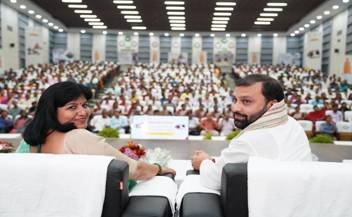 During the inauguration of the three-day Pottery Expo at the Kalinga Institute of Industrial Technology campus, Shri Manoj Kumar further emphasized that, under the insightful guidance of the Prime Minister, KVIC is dedicatedly equipping artisans engaged in traditional Indian village industries with essential tools and machinery through the Gramodyog Vikas Yojana. This strategic initiative is significantly enhancing the quality of life for these artisans by augmenting their income levels. Up to this point, as part of the 'Kumhar Sashaktikaran' initiative, over 25,000 electric-driven pottery wheels have been disbursed to potters nationwide. In Odisha, the Gramodyog Vikas Yojana has facilitated the distribution of more than 900 electric-driven pottery wheels, with a cumulative value of approximately Rs. 2 crores. This concerted effort has notably propelled the income of Odisha's potters to increase three to four folds. Shri Manoj Kumar further stressed the importance of embracing the dual approach of 'Make in India' and 'Make for World' to realize the the Prime Minister's vision of local-to-global initiative. Under the 'Kumhar Sashaktikaran Yojana', a hundred potters from diverse districts in Odisha have received electric pottery wheels, accompanied by a comprehensive ten-day training program. As a result of these interventions, these skilled artisans are now capable of generating a monthly livelihood ranging from 25,000 to 35,000 rupees.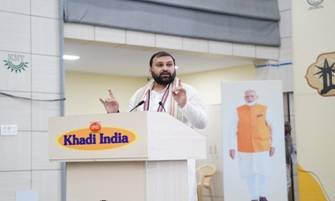 Shri Manoj Kumar articulated that the state has a robust network of 62 Khadi institutions, which are effectively providing employment opportunities to over 4000 individuals. A noteworthy initiative, the Prime Minister Employment Generation Programme (PMEGP), has witnessed the establishment of 11,352 PMEGP units within Odisha, over the past three years. These units have received margin money subsidies exceeding Rs.308 crores from the Government of India, thereby fostering employment for more than 90,000 people. Number of officers and staff of Government of Odisha and KVIC were present in the above distribution programme.
Source : https://pib.gov.in/PressReleasePage.aspx?PRID=1954345
Related Posts